Project: Baja Landroamer
FORD F450 DRW 4X4 200" WHEEL BASE FLATBED DIESEL CREW CAB; WITH LANCE 1191 "MAX" CAMPER.
This page briefly documents the building of this rig (from start to finish), developed for family exploration of "roads less traveled" in Mexico, the USA, Canada and beyond.
The beginning: After several months of research, we concluded that we wanted a truck big enough for our family (2 adults and 2 kids) and a camper with adequate sleeping space, a kitchen and a dry bath. Diesel and 4x4 were a must also.
We scoured Craigslist and other sites and eventually purchased the truck in Oregon and the camper in Wisconsin.
We were under a very strict time constraint and had only 2 to 3 weeks allotted to execute this project. Our professional schedules were fixed and our flights were booked; to Wisconsin, the location of my uncle Mick's shop where we would be building this beast.
Warning: I had no idea how difficult shipping an F450 is due to its larger size and weight. In fact, no transportation companies were able to get it picked up. After 3 weeks of waiting and only days away from our scheduled trip to Wisconsin, my "kick-ass" cousin Jay was kind enough to fly out and drive the truck to Wisconsin from Oregon.
Jay arrived to the shop in Wisconsin only one day before we did. The following days consisted of all-night shop warfare, fueled by caffeine and good old fashioned gut desire which unfolded as follows:
Day 1: We arrived at my uncle's shop in Picket, Wisconsin at 12pm on July 17th (2014). At the shop was the truck and a flatbed which I ordered and had delivered from Minnesota. Before mounting the flatbed, we cut off the cab protector. By 4pm, we had the flatbed mounted.
Mounting the flatbed was far more work then any of us anticipated, but we (my uncle Mick, cousin Jay and assistant Cory) got into it and got it done.
Jay is a certified welder with loads of experience which played a massive role in us building the rig in time.
We also cut off the rear steak bed slots to allow the camper to slide several inches more forward. After cutting them off, we grinded them smooth before priming and painting the tail of the flatbed. Simultaneously (between paint coats), we began wiring the lighting into the flatbed and that proved to be more work than we realized also. After an investment of a couple hours, Mick called a friend and asked for a favor to assist us in wiring the flatbed ASAP.
Day 2: We delivered the truck to Mick's friend for flatbed wiring at 8am. By 1pm, he had the flatbed wired and ready to go.
We then headed to pick up the camper (3 hours away). This was going to be a challenge, because we were not 100% sure the camper's rear skirt would fit over the flatbed. Plus, we were not sure how we would mount it temporarily. Also, Gary (the gentleman we purchased the camper from) was not going to be there, as he was out of the country on business. Only his wife Judy was home. With us, we brought 4 large tie-down straps, a gas-powered steel cutter (in case we needed to cut the flatbed to fit the camper), the GPS, some snacks and hit the road (Mick and I, along with one of my sons (5 yrs) and nephew (9yrs)).
When we got to the camper, we could not find the adapter cable (to connect the camper's taillights to the truck). Initially, I was not worried because a large camper store was only a mile away. But, when we went to the camper store, they told us they do not sell Lance campers and therefore it would take a week to get that special adapter. Keep in mind, it was now about 4:30 pm in a small Wisconsin town, where businesses close around 5pm. YIKES.
We searched and found a guy (Justin) who was willing to retrofit a special cable for us, but he needed the camper and truck there at his garage. And, we had to get it to him in 30 minutes if we wanted it done. It was Friday night and Justin did not appear to be the kind of guy who was willing to sacrifice a weekend night to fix a cable for some strangers — We rushed back to get the camper.
Moments later and back at Gary and Judy's house, we rushed to jack up the camper and mount it to the truck. We had some issue getting the jacks to operate and it took us about 10 minutes to get that figured out. Once that problem was resolved, we lowered the camper on the flatbed and Mick began strapping it down. As Mick did that, I searched Gary and Judy's garage and shed one last time for the adapter cable.
About 30 minutes later, we finally had the camper mounted and we began coming to terms that Justin would likely not want to assist us tonight. Therefore we would most likely need to get a hotel and get to this the next day. But... I decided we would drive (without taillights) to Justin's regardless and I would at least do my best to bribe him.
As we pulled out of Gary and Judy's driveway, Judy came running outside holding the phone in the air... She had reached Gary in the Bahamas. Gary forgot about that cable detail and quickly directed his wife to locate it.
There was typical corrosion on the cables and it took us 15 minutes to get the lights working properly, but finally we were on our way back home. The kids were so damn patient, we rewarded them (and ourselves) with a stop for road side ice cream.
Day 3: Now that the camper was on the truck, I quickly designed the "front box" (the box Jay would fabricate from scratch, located between the back of the cab and front of the camper). I also began to look for places that carried contractor boxes (preferably in stock) which we would mount on the sides of the flatbed. After designing the front box, Jay calculated the material and we placed the order for delivery the following Monday.
Mick and I headed to Northern Tool Company (about an hour drive) to check out contractor boxes. We caught a lucky break here... Northern Tool in Appleton, WI had exactly what I needed, and in stock also.
Day 4 (Sunday): With lack of sleep and from working too hard, I could already feel that this day would be the beginning of a several week blur; with no real recollection of what day what occurred. At some point we installed all new tires (can't remember the exact day it was).
About the Tires: Originally, I planned to lift the truck and install custom Rickson Conversion Wheels to convert the truck from a DWR to a SRW. However, after a discussion with Rickson and our concerns of keeping the rig from getting any taller, we made the decision based on their advice to go with a Drive Steer setup... Rear Drive Tires are Goodyear G171 8R19.5 LRF (these tires are narrower and taller, allowing a larger gap between the dual tires, and therefore extra space for deflating tires when in sand)... and the Front Steer Tires are Goodyear G647 8R19.5 RSA LRF. I will be taking some photos and video of the rig on sand on an upcoming trip we will be taking. I will post those when we return.
The "blurry" days that followed: Over the course of the following 12 days, we completed nearly everything, by burning massive midnight oil and while balancing our kids needs and desires to have a fun summer (which included trips to parks, the zoo, beaches, toy stores, etc) too.
Truly, this build would not have been possible without the support and assistance of our family, especially my uncle Mick and aunt Jane, cousins Jay and Gen, nephew Gavin (and his neighbor Eric), my sister Abby and my mother (who can still easily keep up with me and my insane projects)... all of whom pitched in wherever and however they could.... And I mean pitched in ... Hardcore style!
Jay, Mick, Corey and I installed the flatbed, lighting, the two fuel tank lines, the contractor boxes (5 in total). Jay and Mick fabricated the hardware to connect the camper tie downs. And Jay fabricated the primary (and huge) front contractor box from scratch and an under the flatbed side mount spare tire rack. It all, it was a It was a enormous undertaking, especially considering the time restraint. We also primed and painted all those items.
Additionally, we completely renovated the camper (my wife Ana painted all the walls and cabinets, we installed new led interior lighting in some areas, new cabinet hardware, tore out all the carpeting and linoleum and replaced it all with a new synthetic wood floor (looks nice). We removed the large vinyl dinette in the slide out area and made our own custom futon couch bed on caster wheels, a custom welded steel and collapsible wood table. This welding was performed by my awesome nephew Gavin at a different shop. Eric, Gavin's neighbor assisted greatly with some labor and allowing us to borrow many of his professional tools —thanks Eric.
We removed the dated and unattractive window finishings and replaced them with new muslin curtains, hand sewn by my mom and I, mounted on copper rods. We replaced the old plastic WC with a new porcelain RV toilet. We finished off the truck by installing a nerf/step bar and 6 brand new 14-ply (semi-grade) off road tires.
Around the 10th day, the ac belt burnt out. We had to change that in Gaven's driveway. Changing an ac belt in a F450 diesel is nothing like changing a belt in a standard truck. We eventually hired a craigslist mobile mechanic to finish the job so Gavin and I could continue working on the couch and table welding, and the synthetic flooring.
The last days consisted of adding tints to the crew cab, and a new Bluetooth stereos in the truck and camper... oh and a gps too.
On the final day, we weighed the truck. Total payload with all passengers and fully stocked camper with all fluids is 16,500 pounds.
There was a lot (I mean a LOT) more stuff we did... Too much to mention actually, but I think you get the general idea.
Around the 15th day, we hit the road!
Step 1: We purchased a Pre-Owned 2009 Ford F450 4x4 DRW Crew Cab Diesel (Cab and Chassis) with a 200" Wheel Base. We also purchased a 2005 Lance 1191 "Max" camper with Side Entry and side slide out.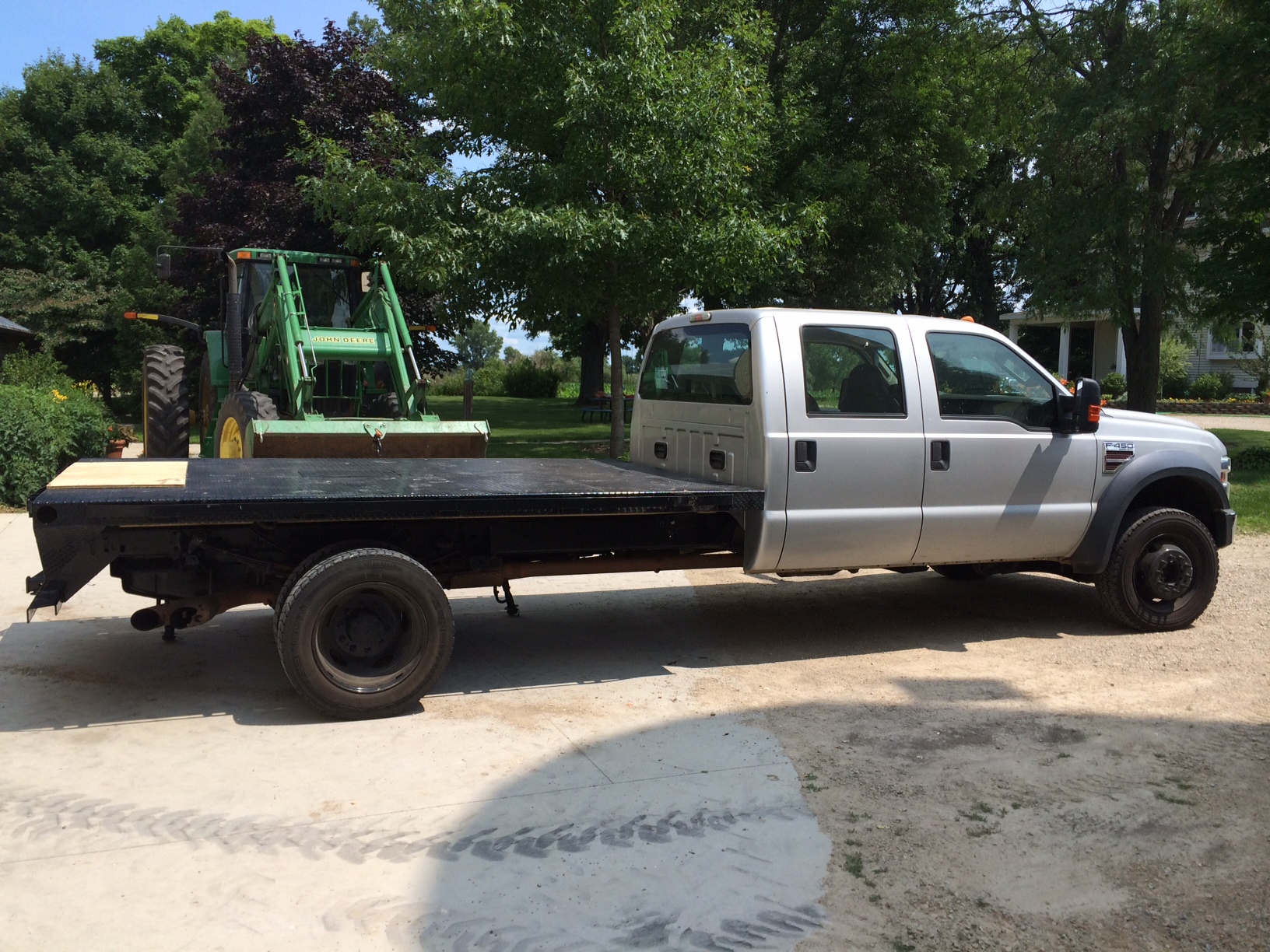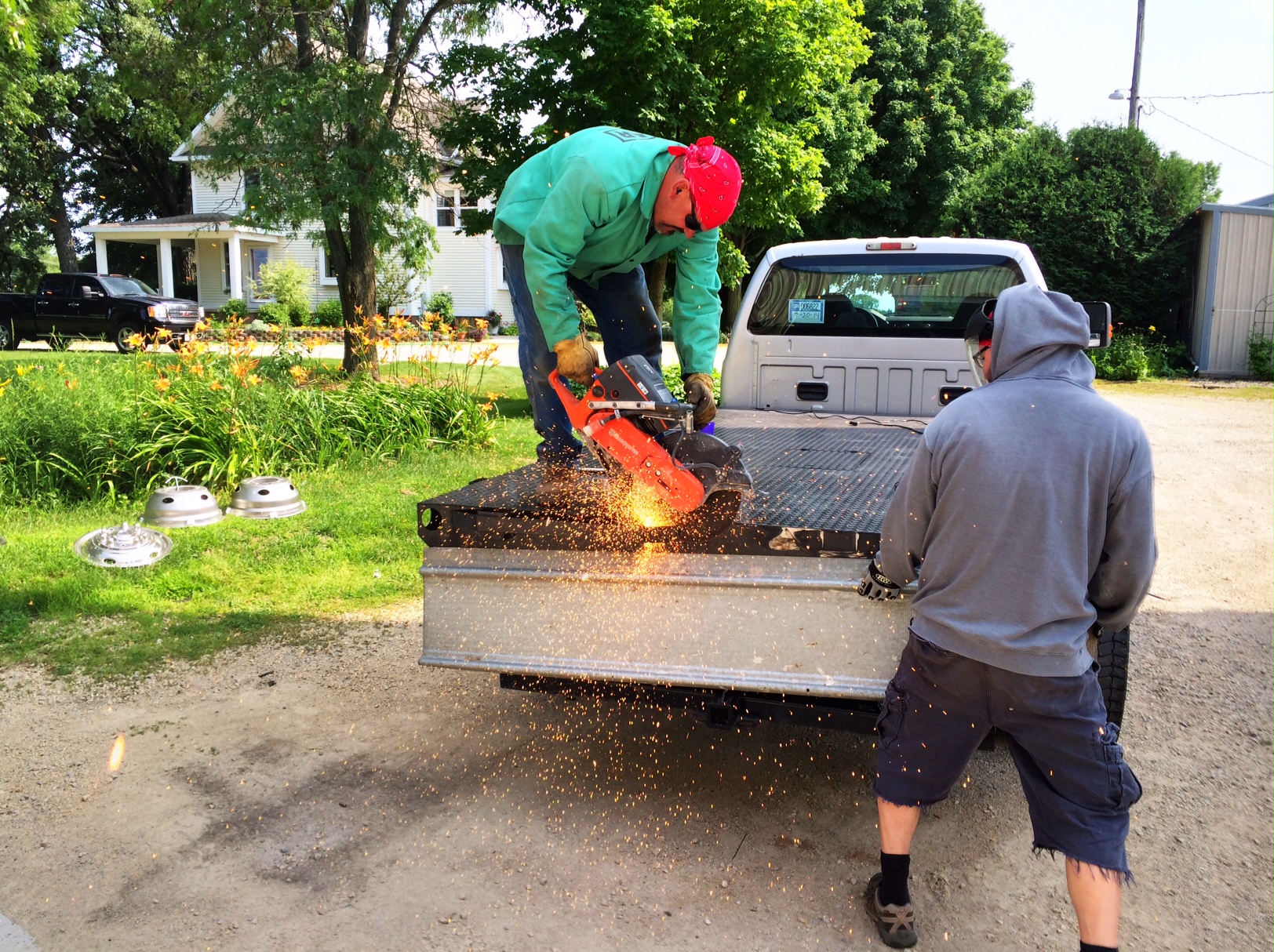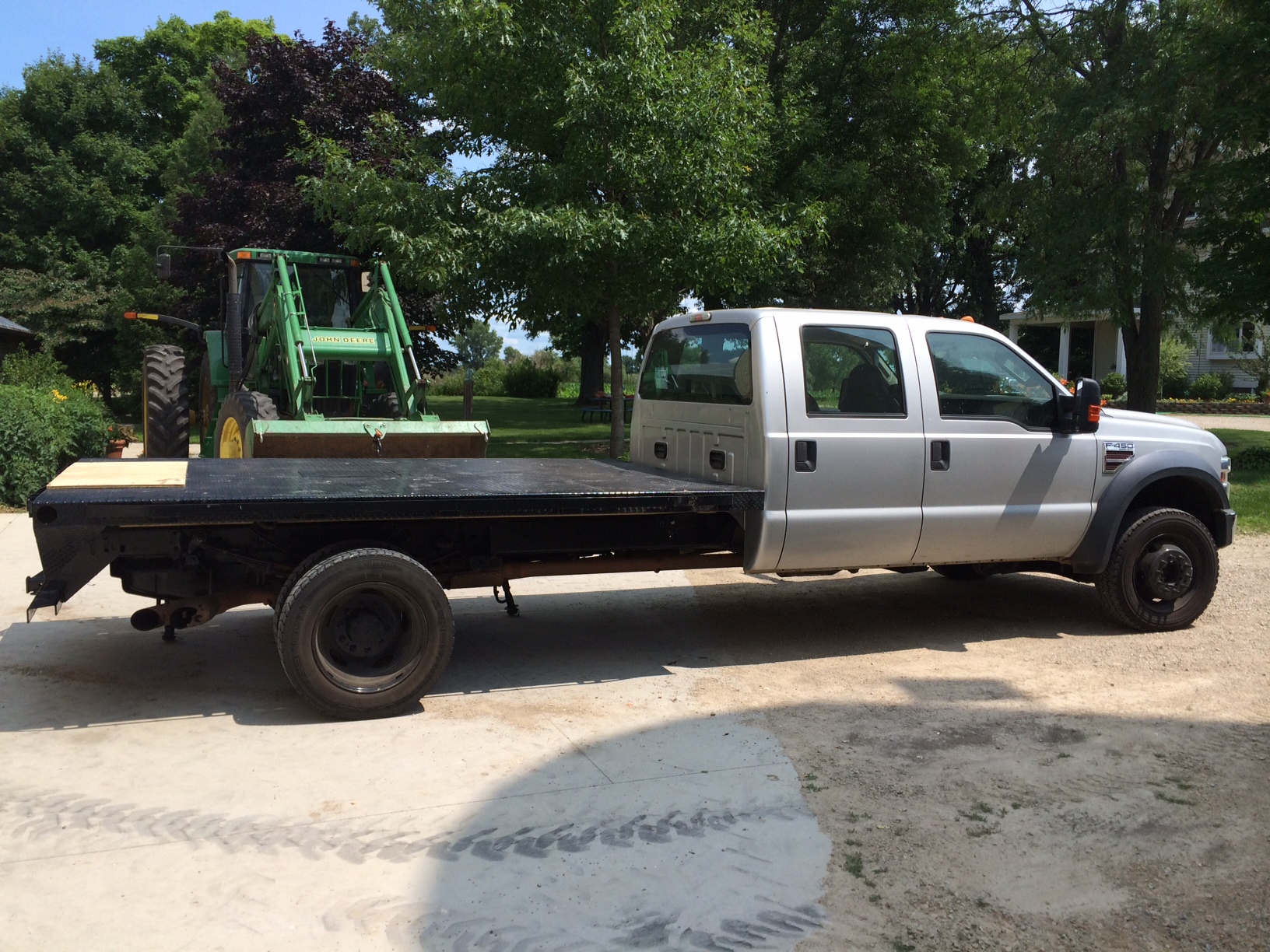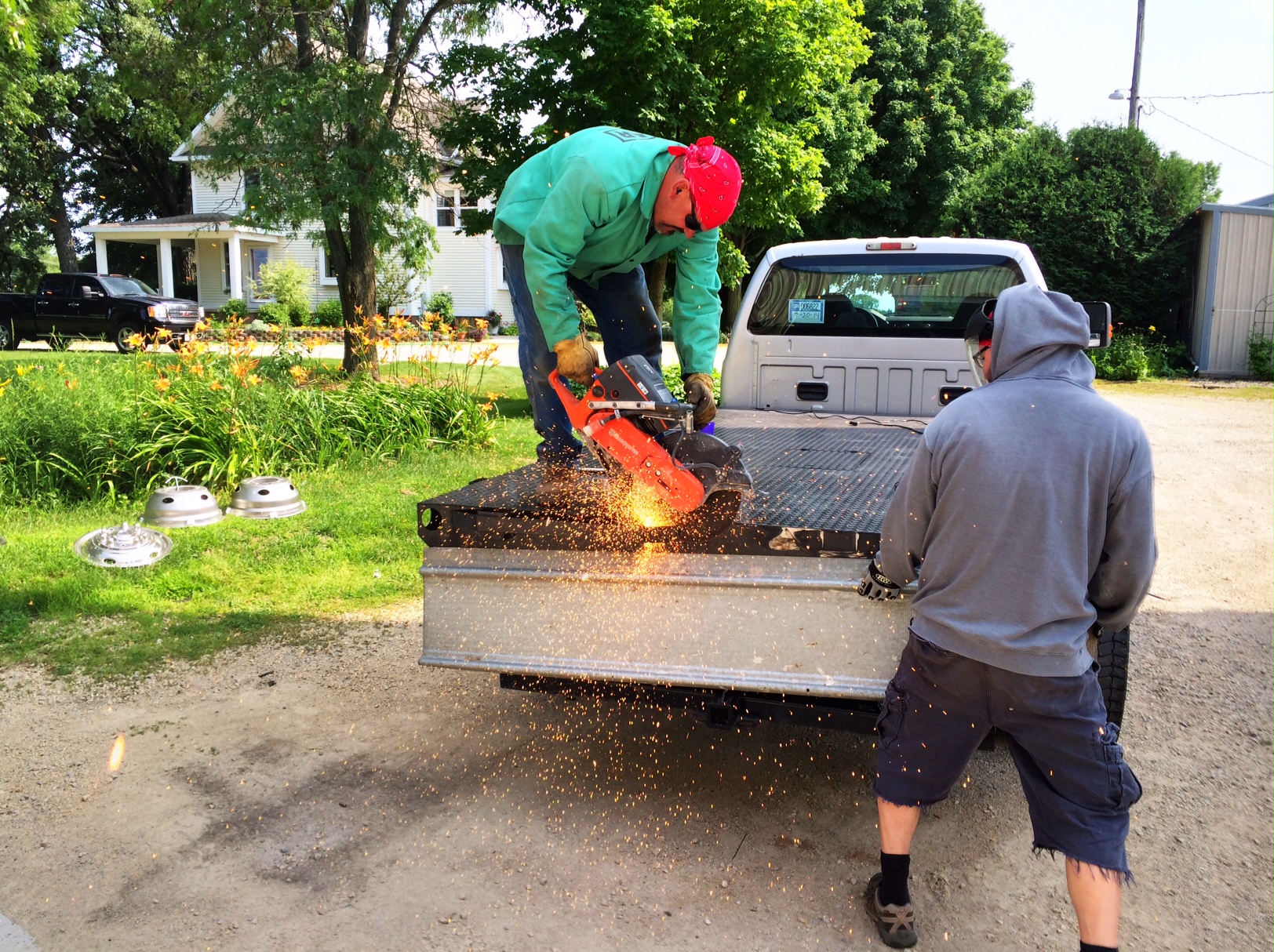 Step 2: We mounted the flatbed, installed the wiring (taillights and signals) and customized the flatbed slightly. Before mounting the flatbed, we removed the cab protector, as the "front box" would become the new cab protector once it is fabricated and installed. We also removed the steak bed slots at the rear of the flatbed, to allow the camper to slide forward several more inches.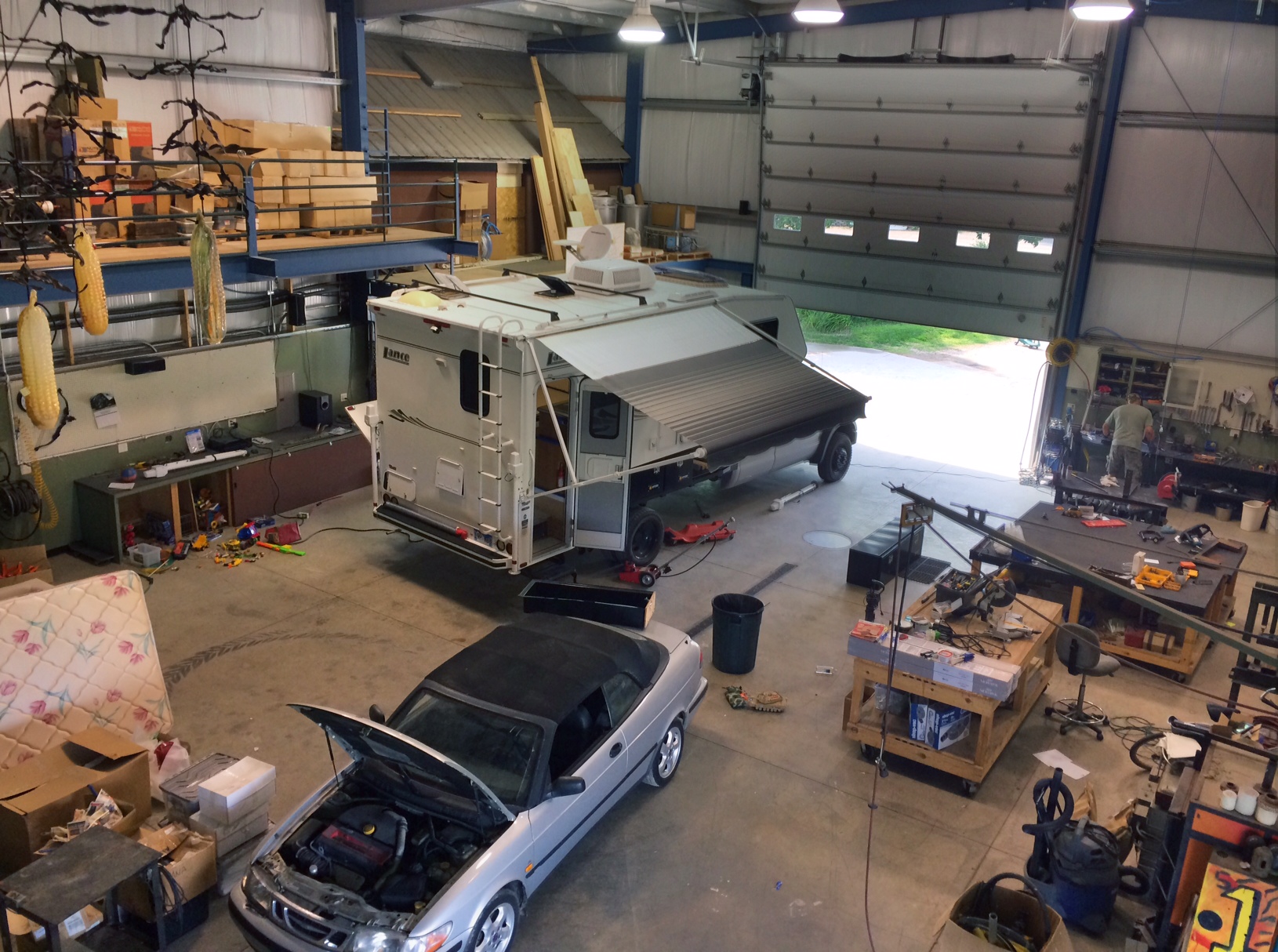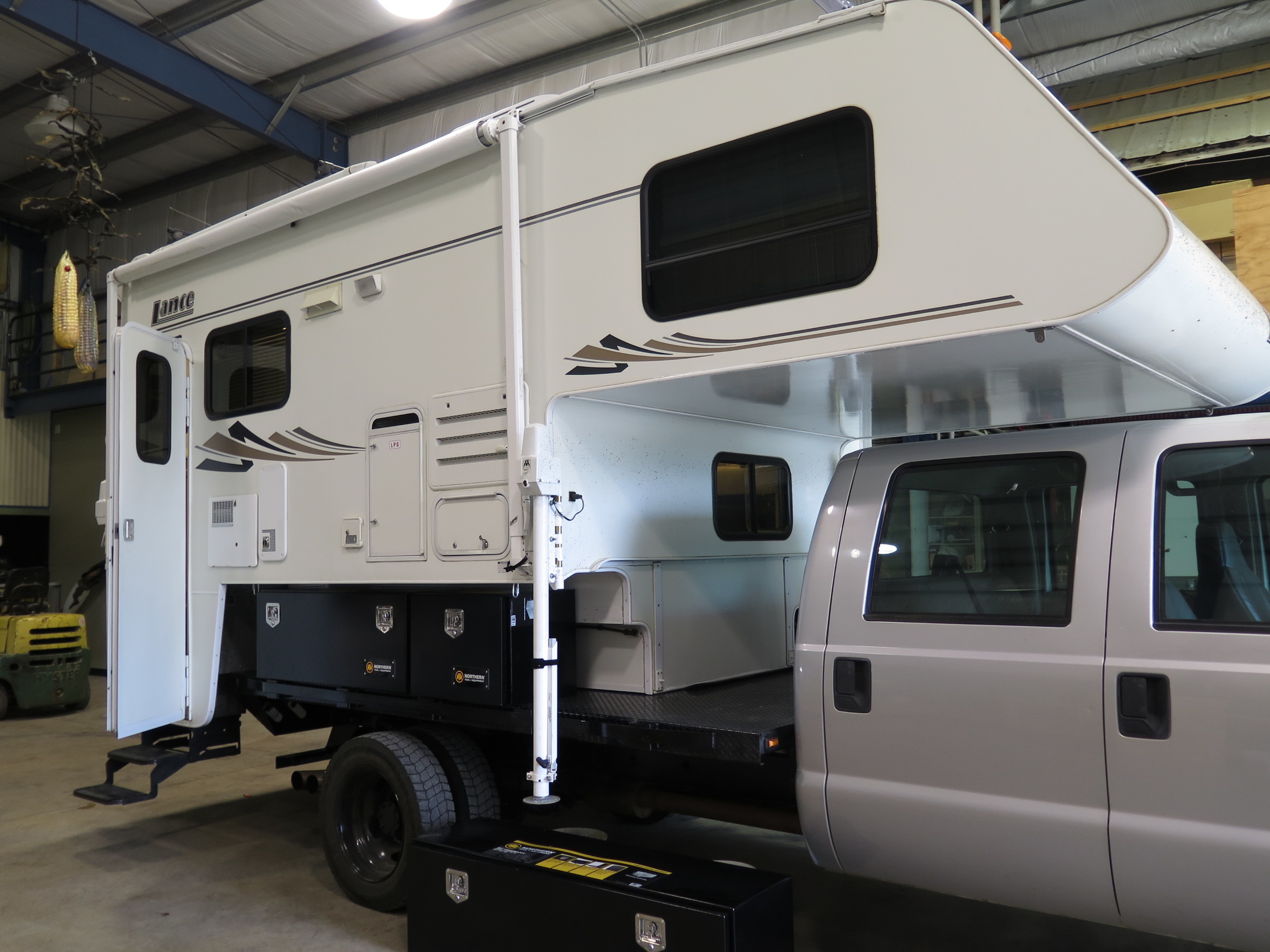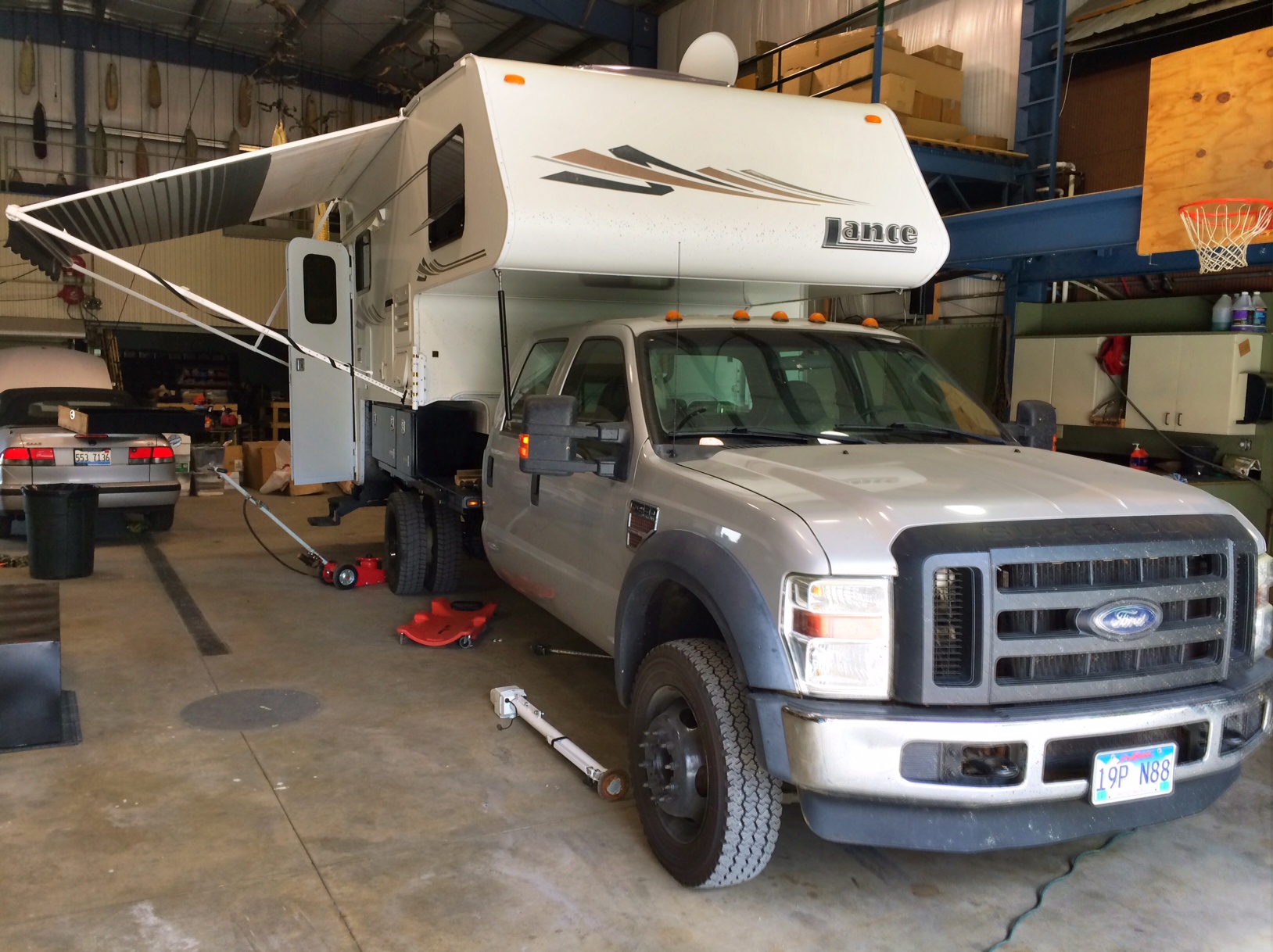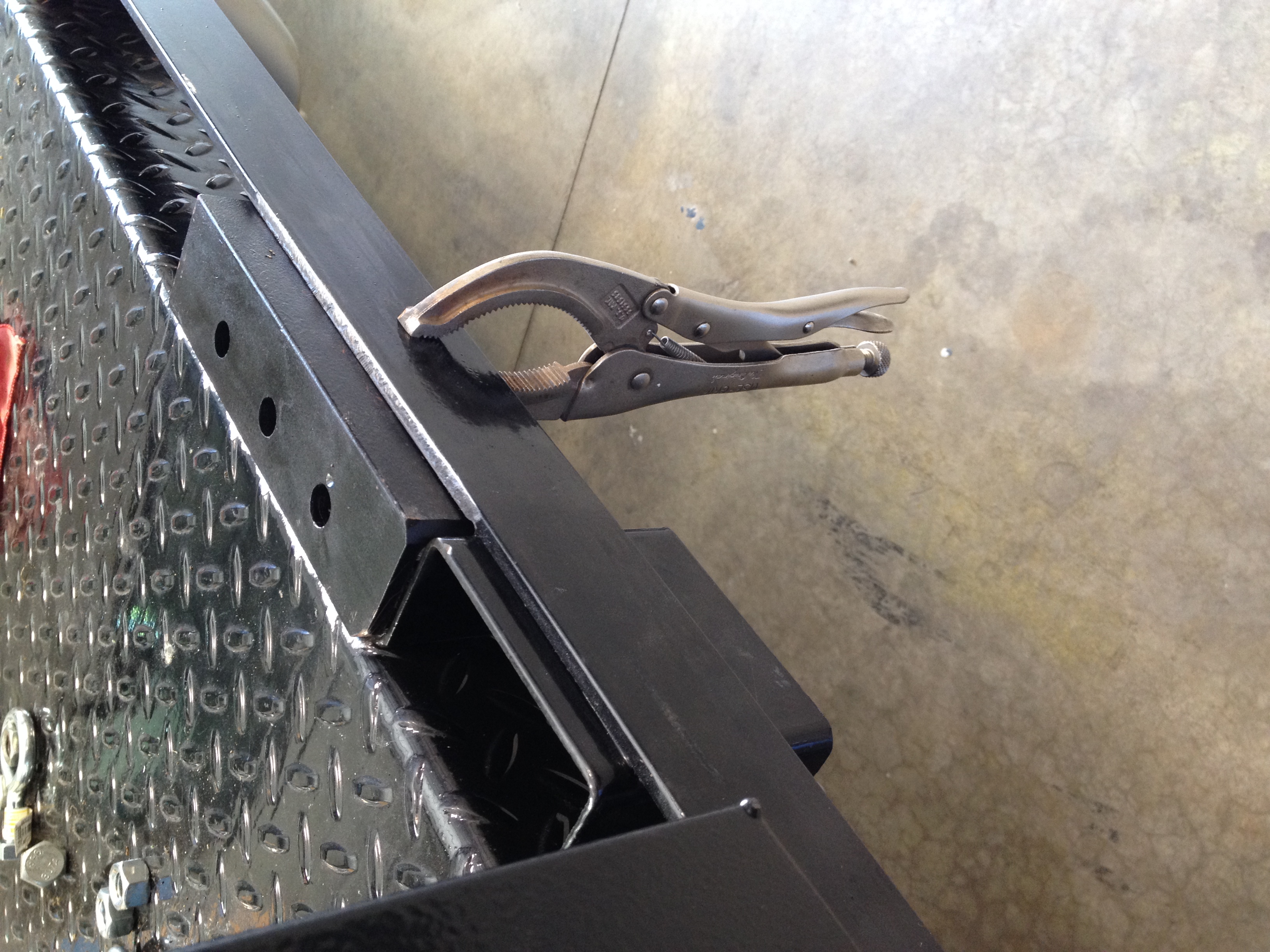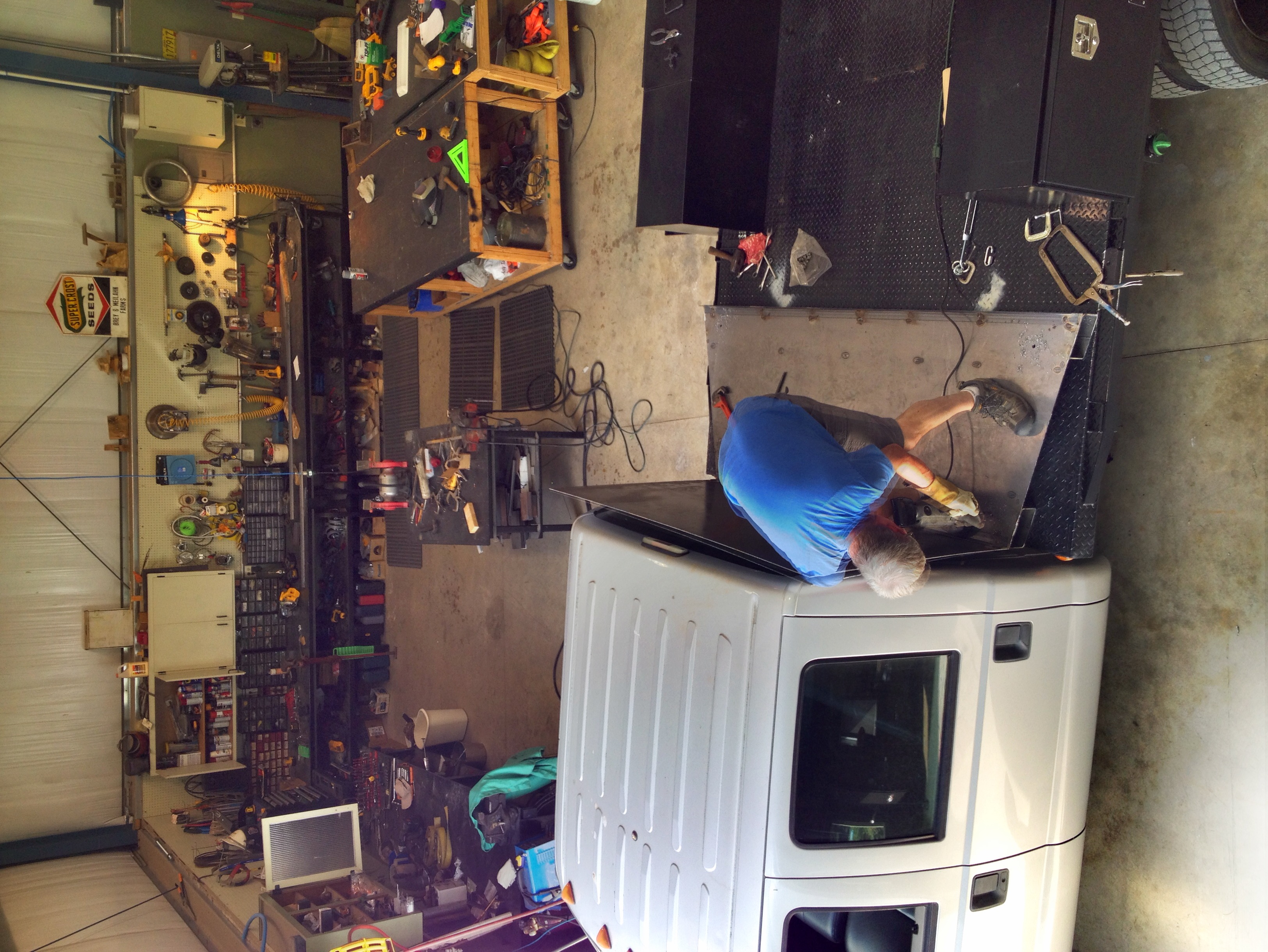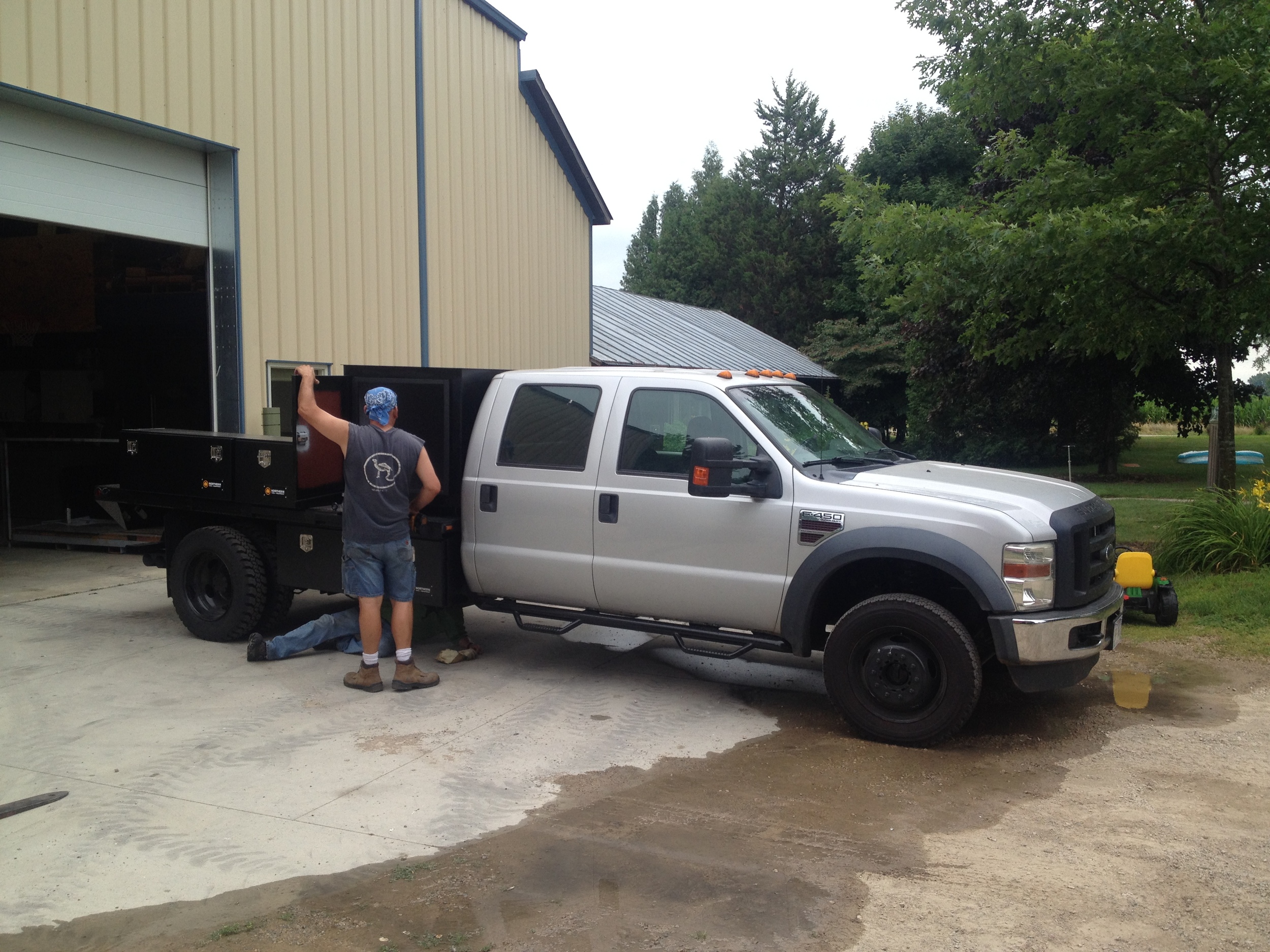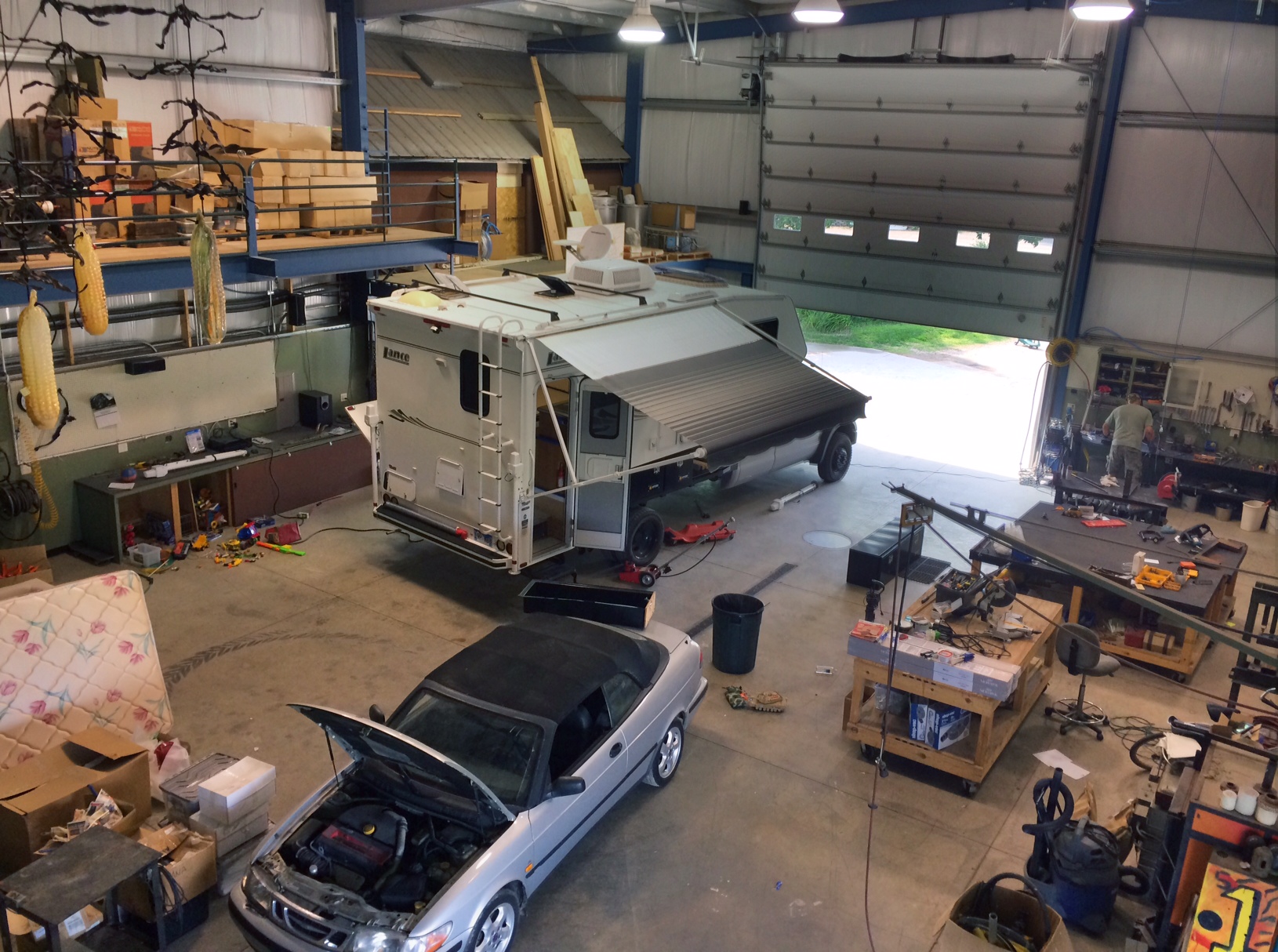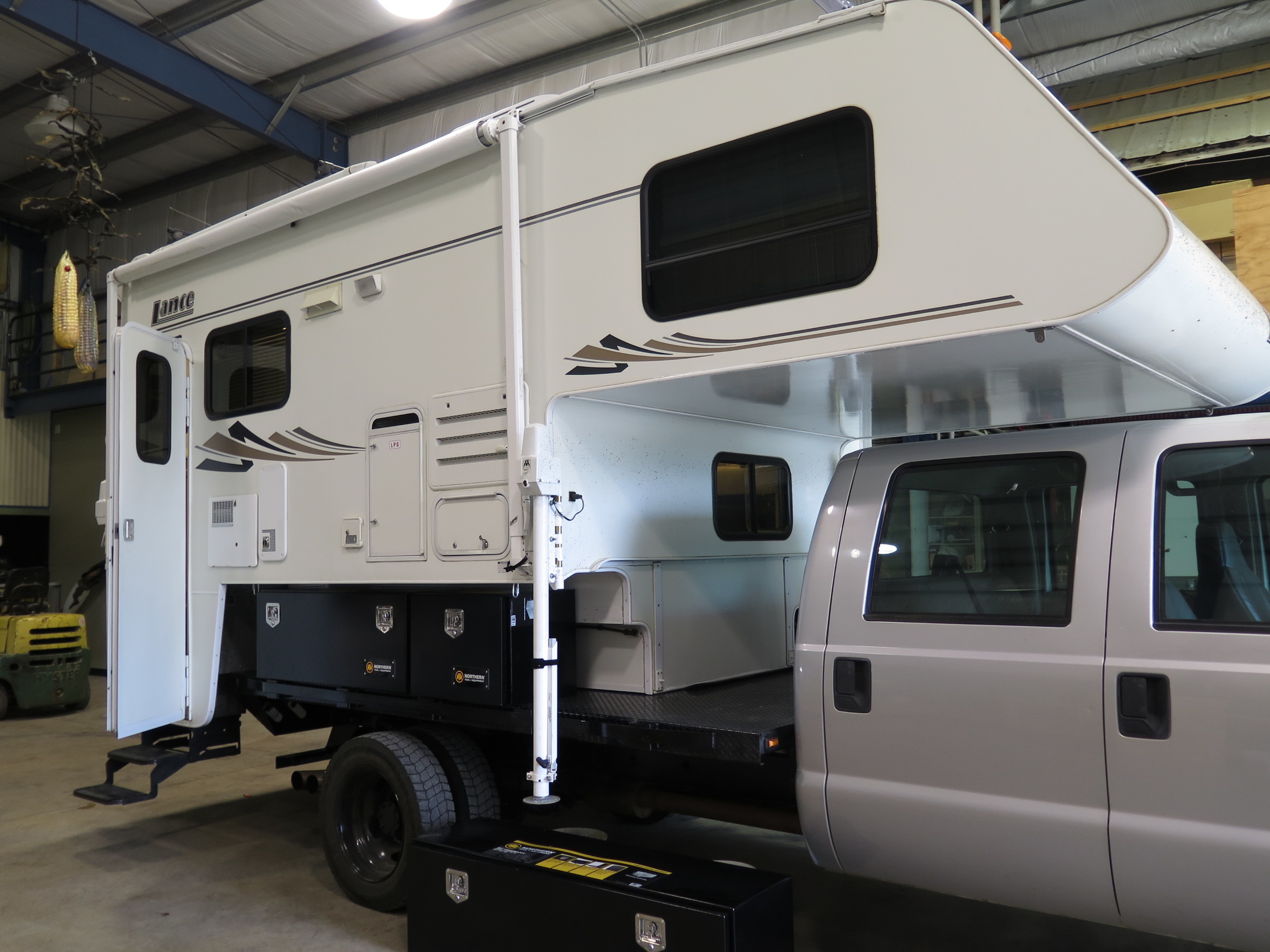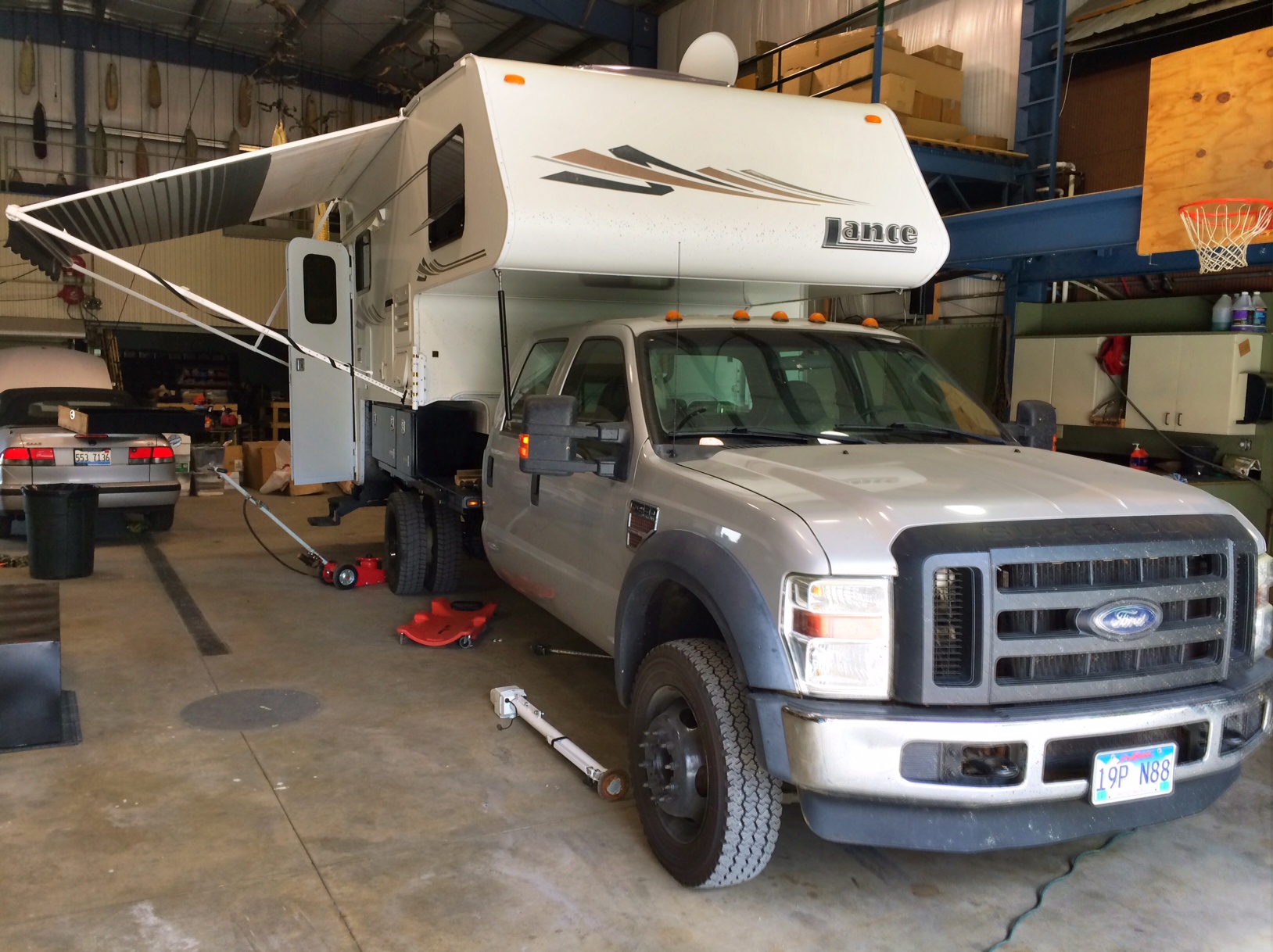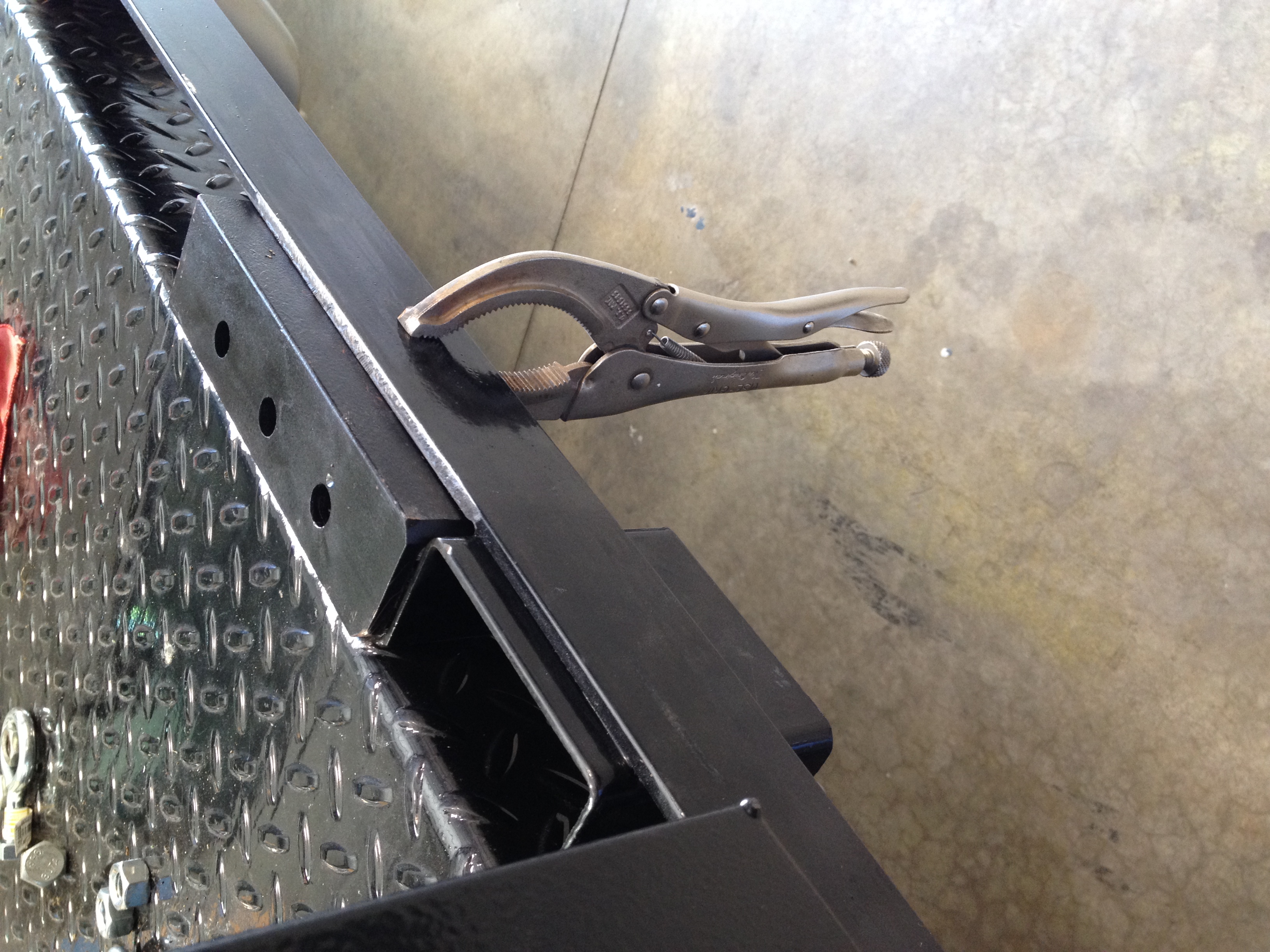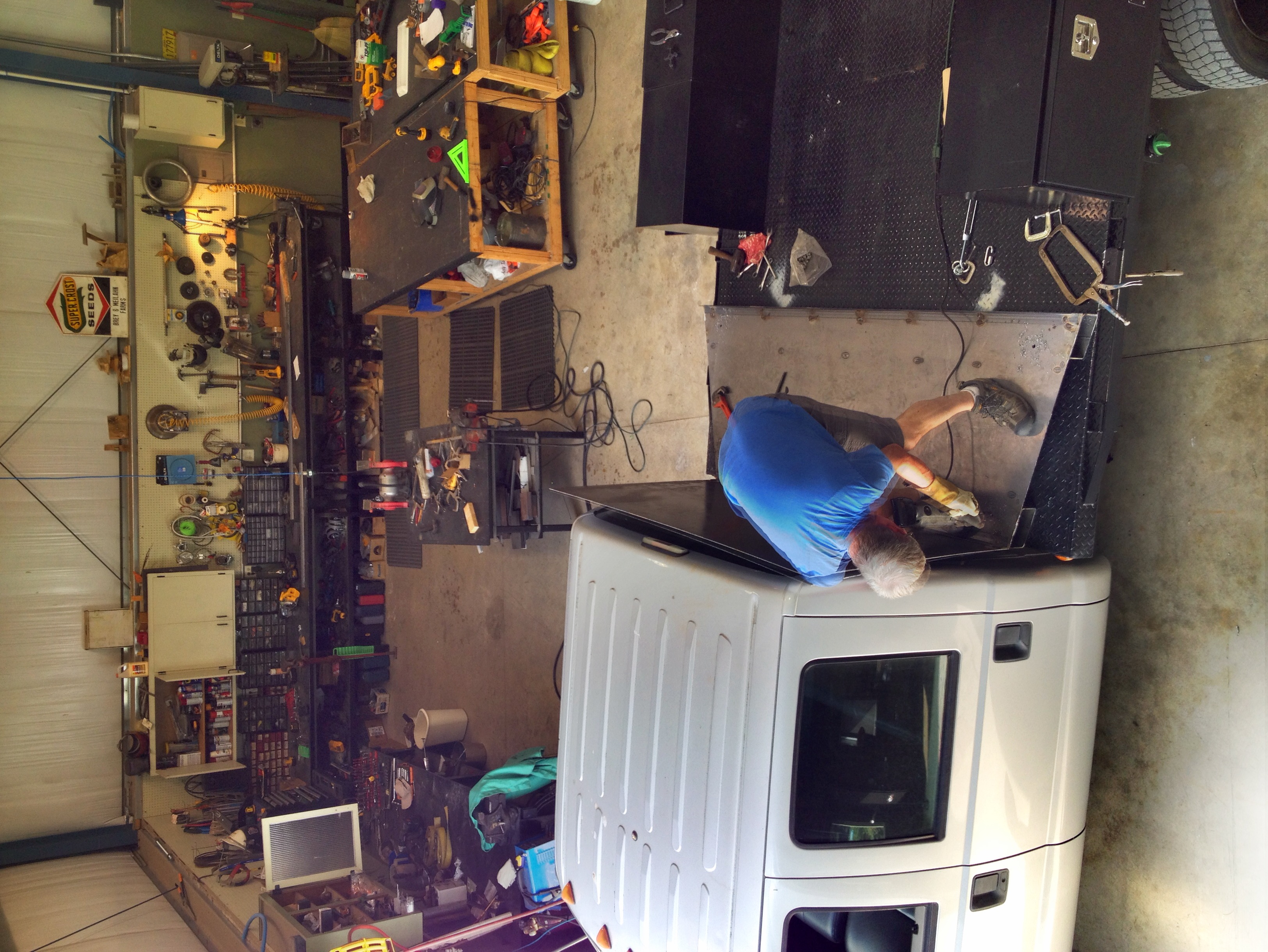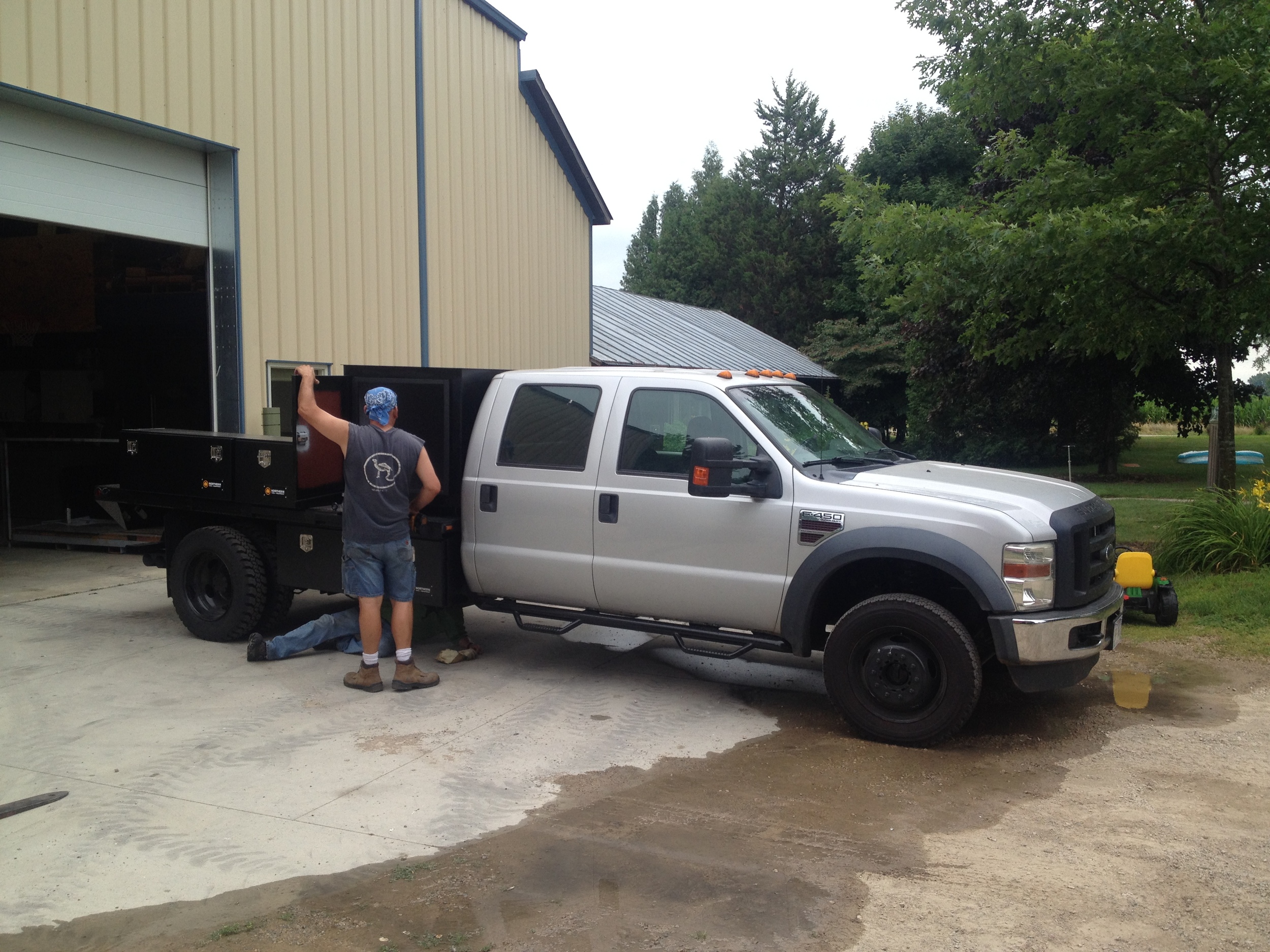 Step 3: With the camper now in our possession, it was time purchase the contractor boxes for the side and measure the space for the front box (the area between the front of the camper and the back of the cab). It was also time to check out the camper more and see what might be needed in terms of maintenance.
OOPS: Late in the evening of day 3, I did something extreme. It was late, the wife and kids were sleeping and no one was at the shop. I was sitting in the camper and although the camper was in good condition, I simply could not get over the fact that it simply was "not our style". I was simply not okay with spending any time in camper with the type of interior design it contained.
After several beers, I did it... I began ripping out everything... I tore out all of the carpet, gone with the cheesy dinette (the full vinyl booth and table), bye bye mattress, bathroom floor, window blinds and even the plastic toilet. I literally tore out everything. I decided (without consulting my wife or the build team) that we would completely remodel the interior of the camper also. What on earth was I thinking?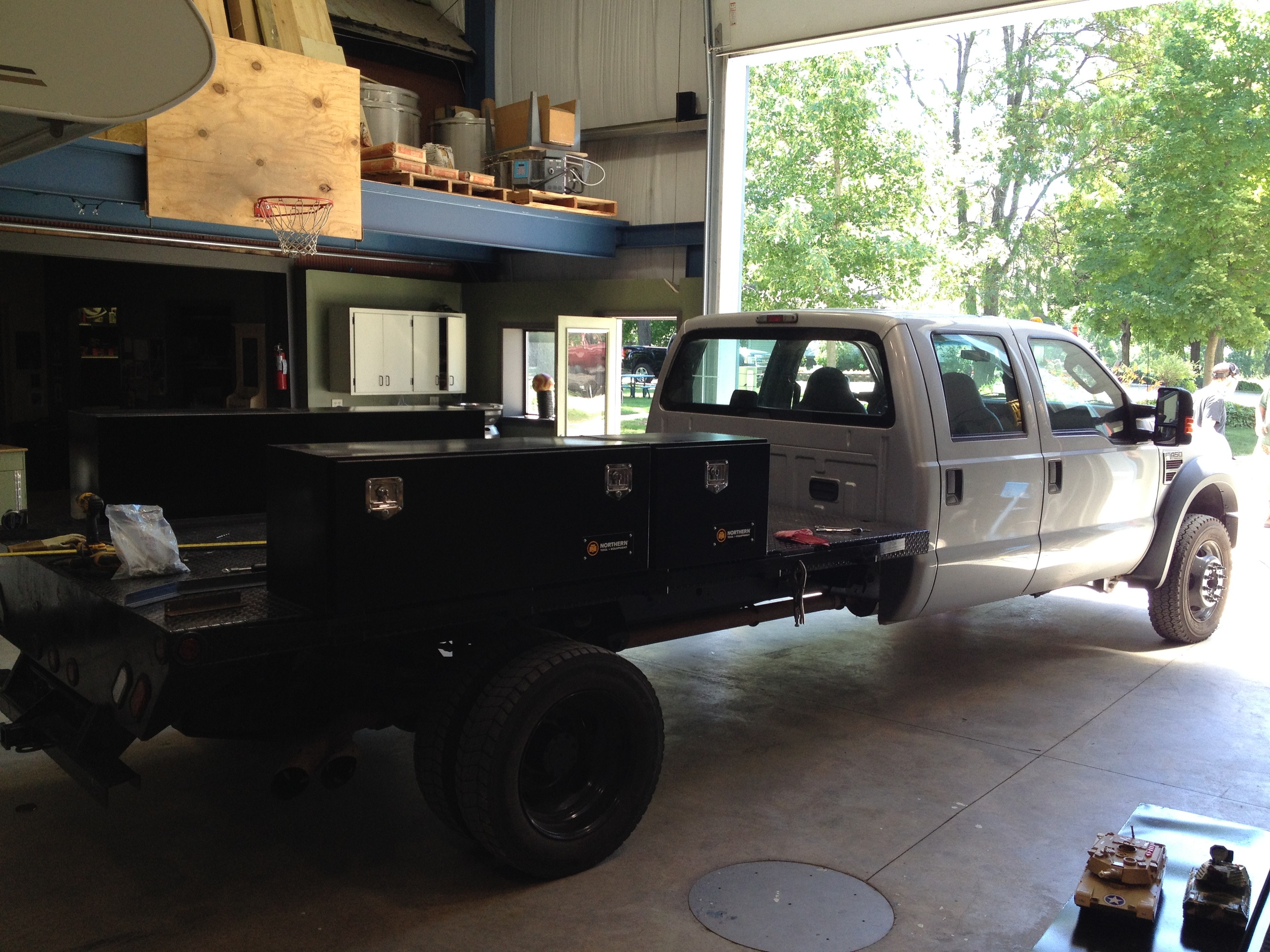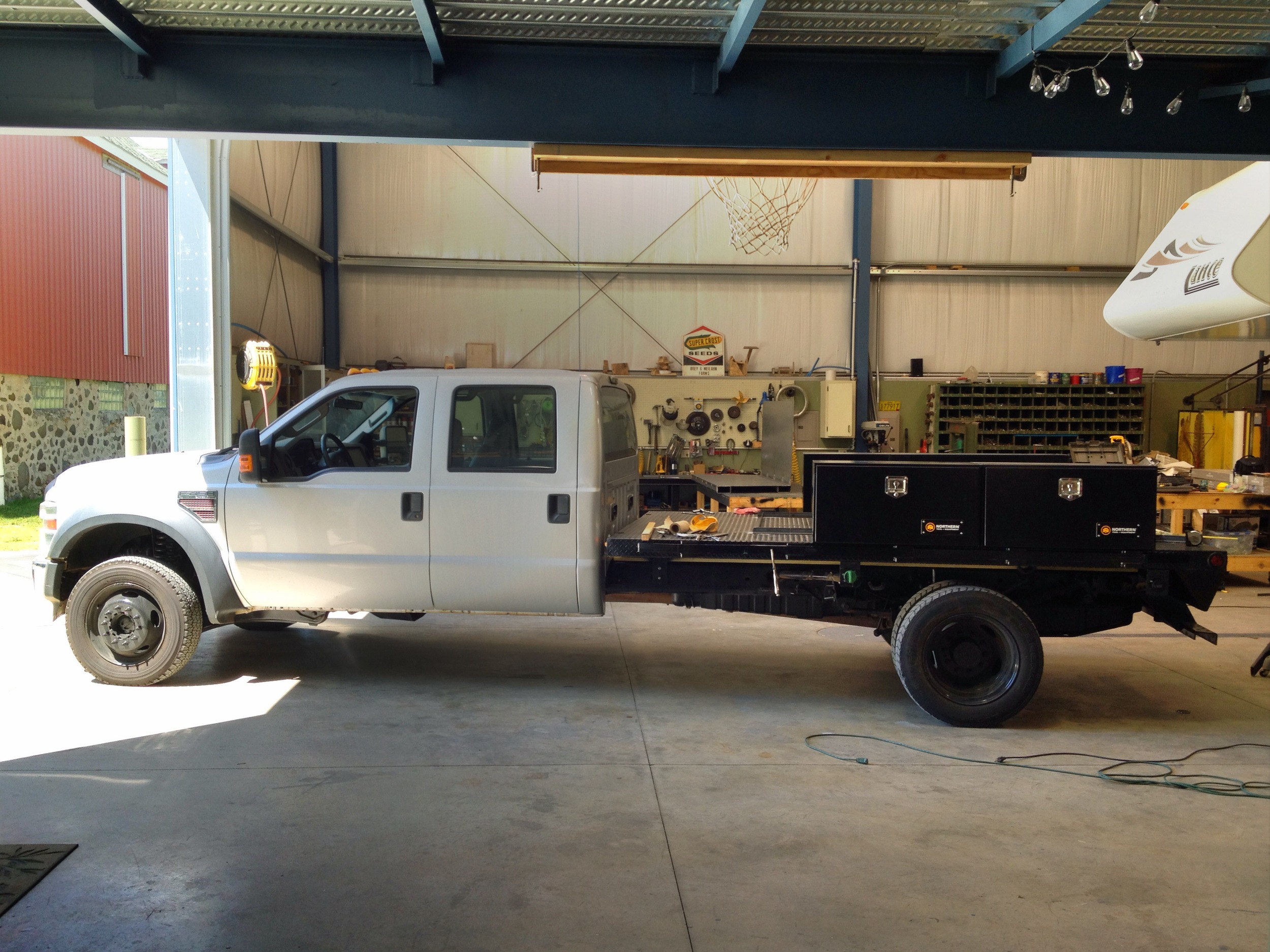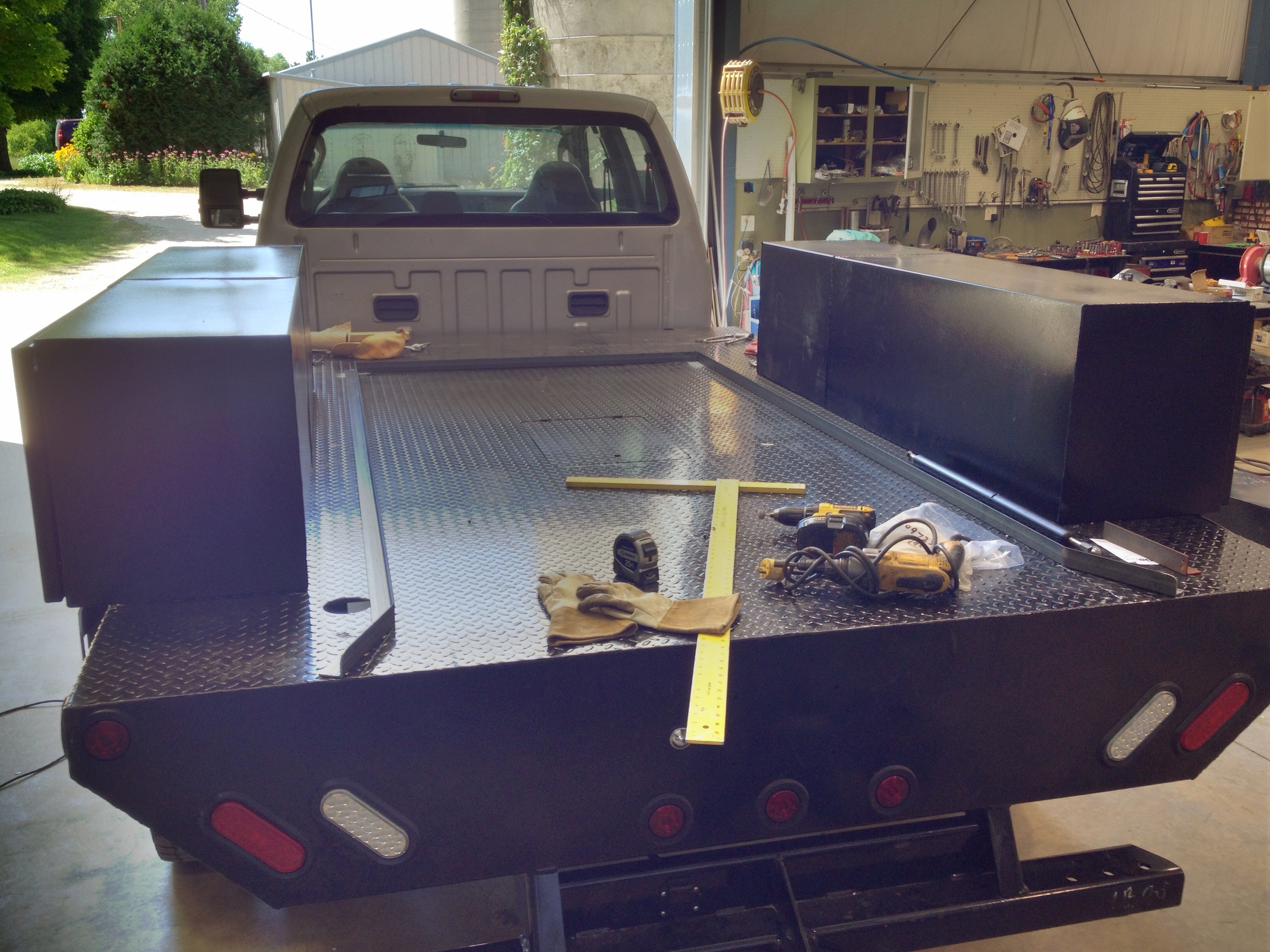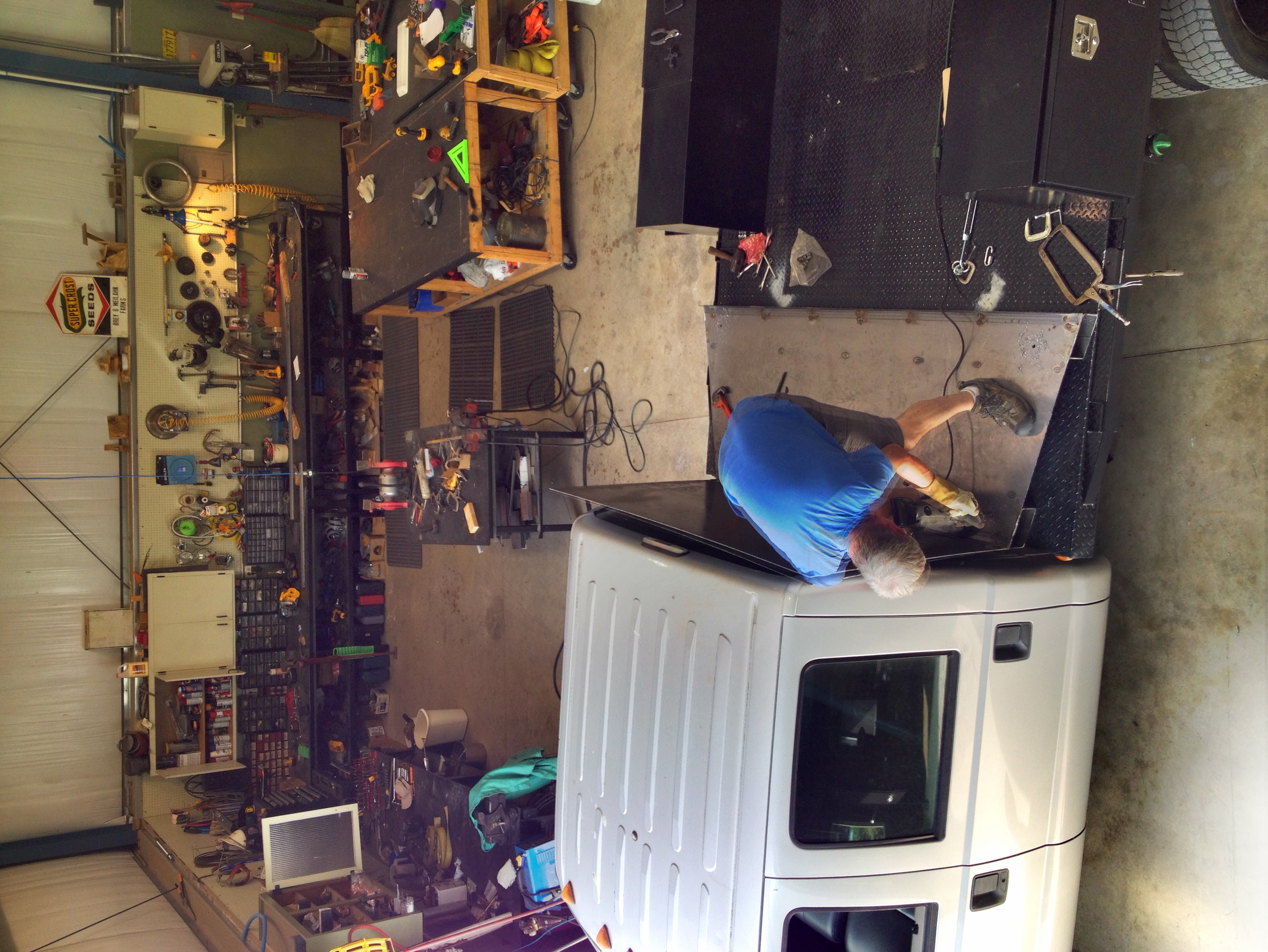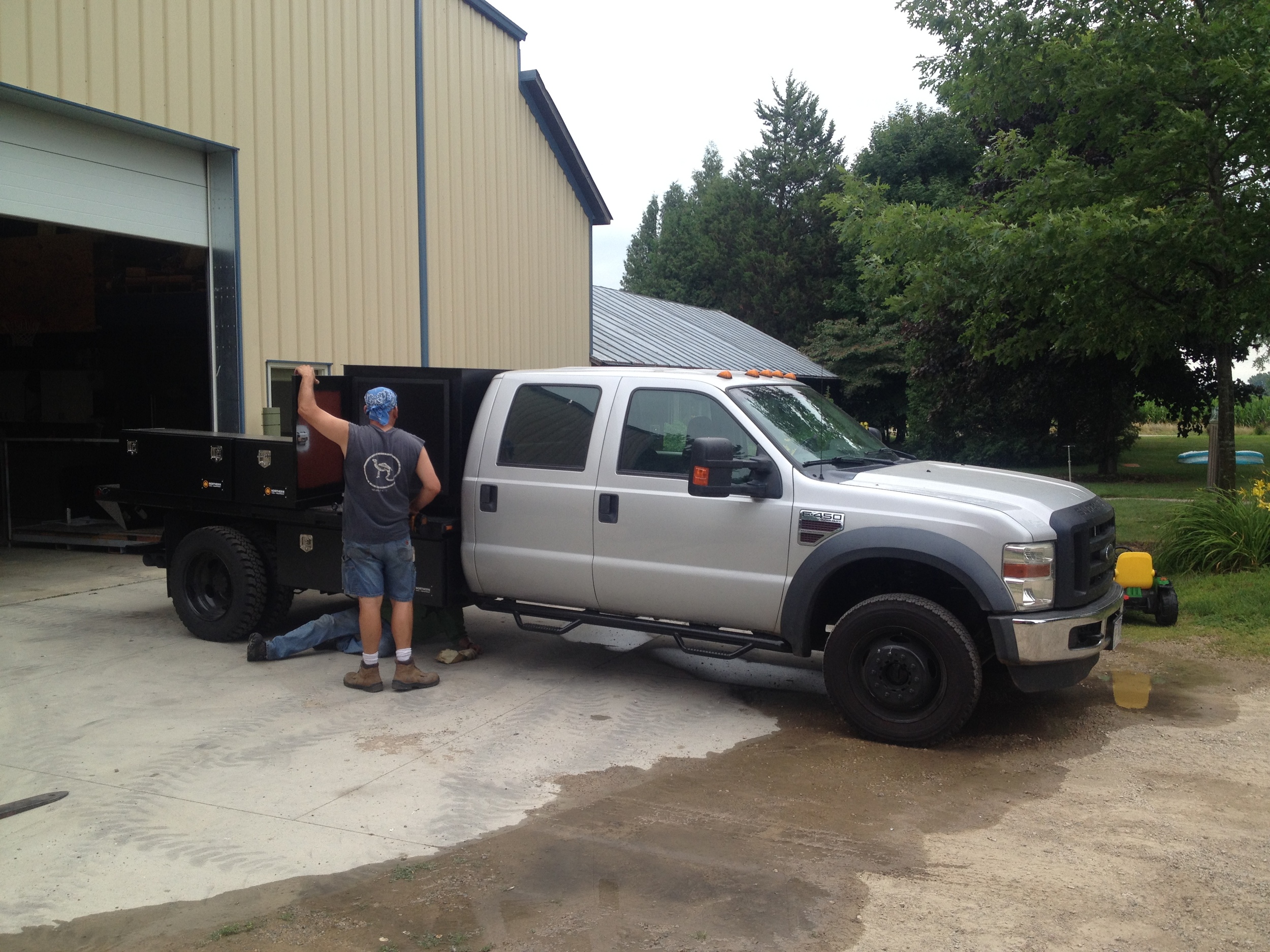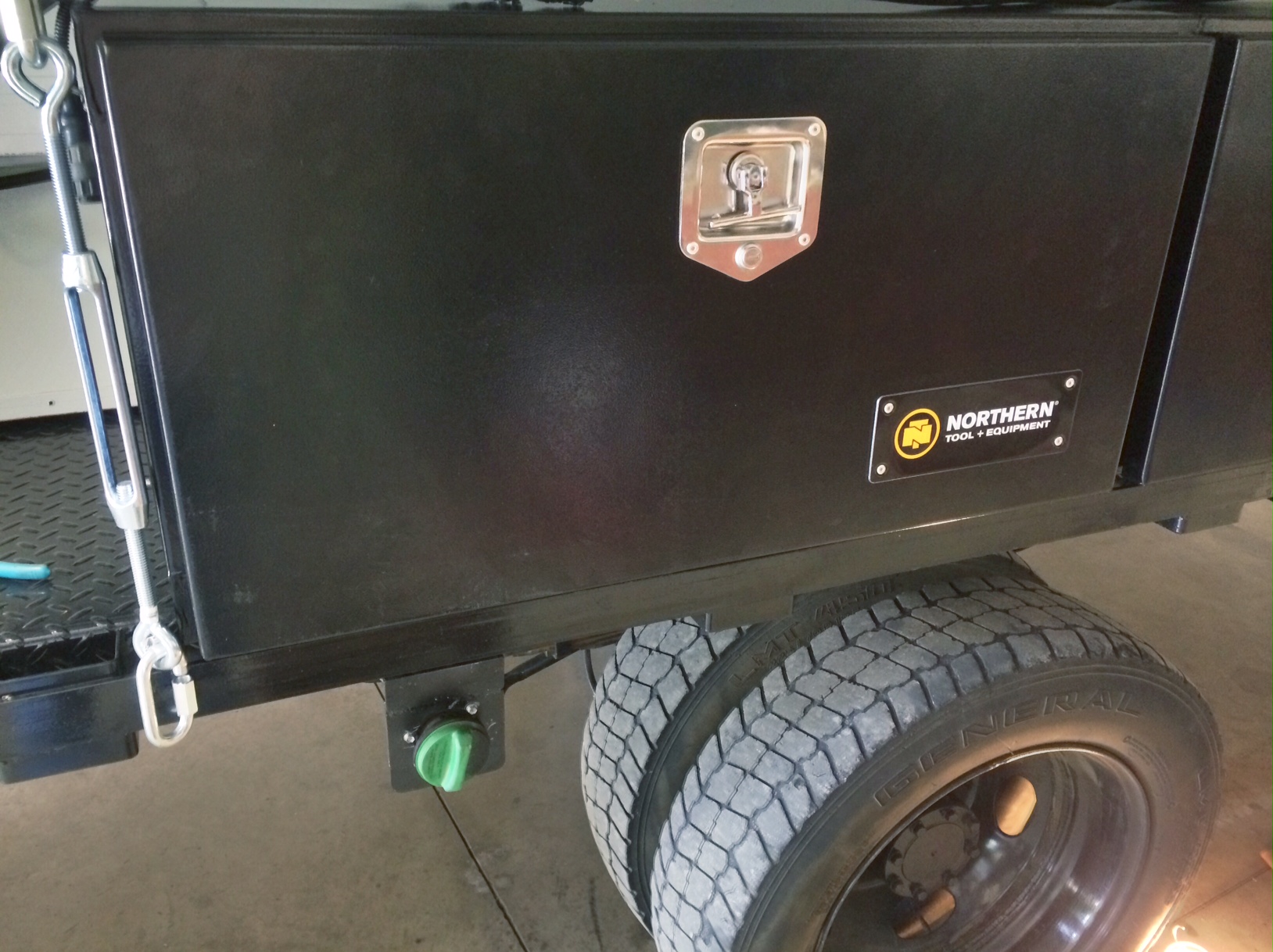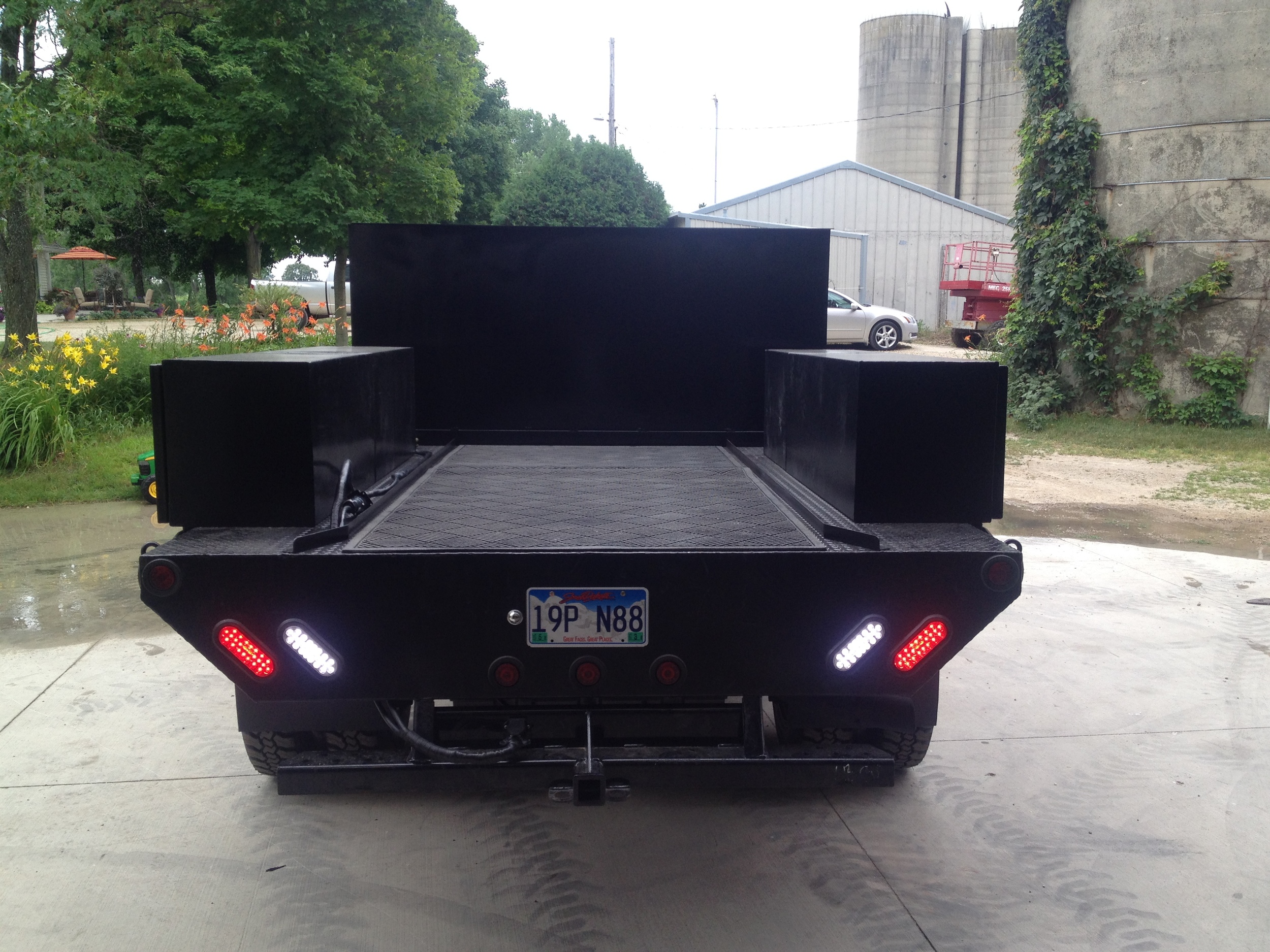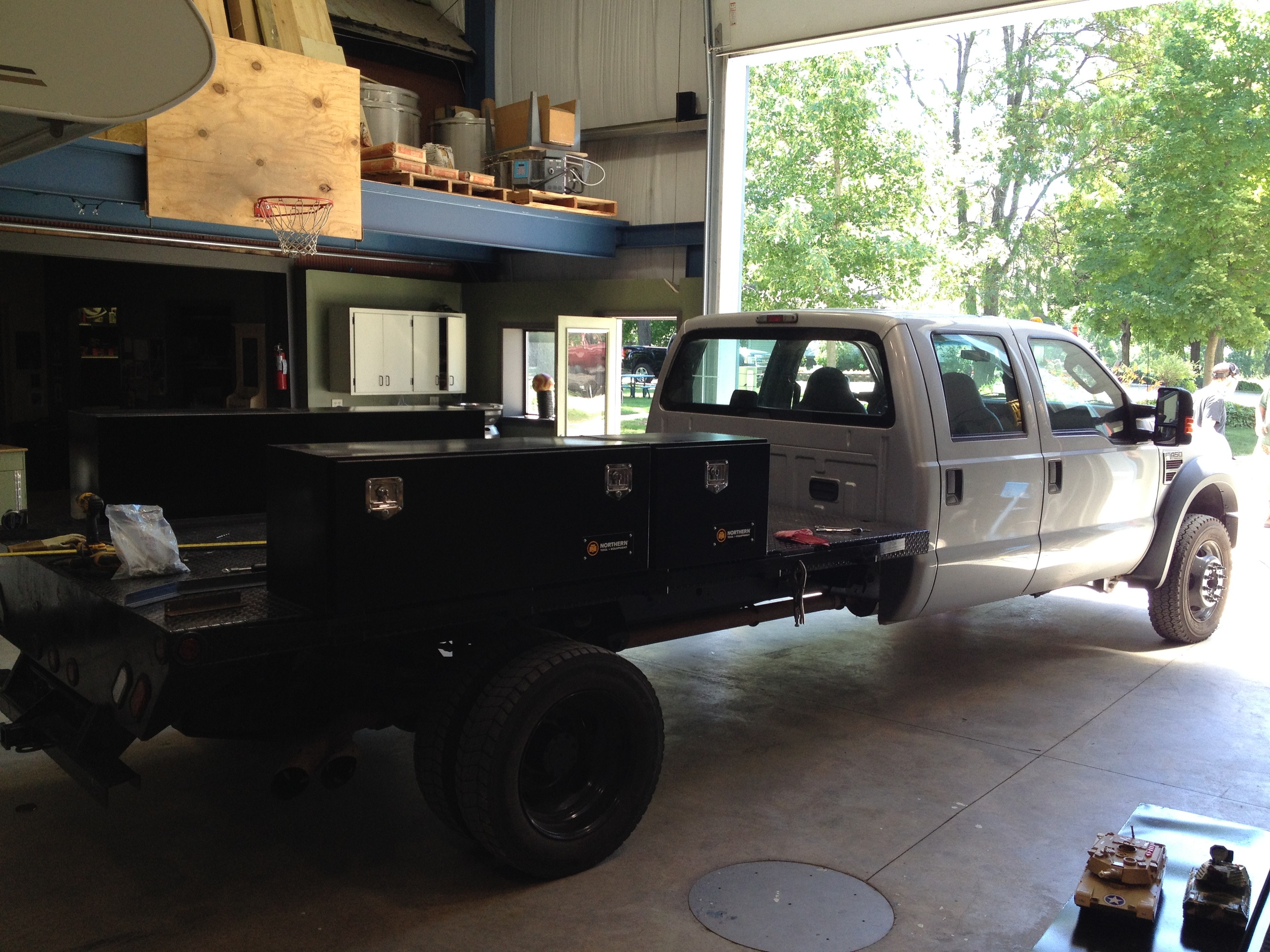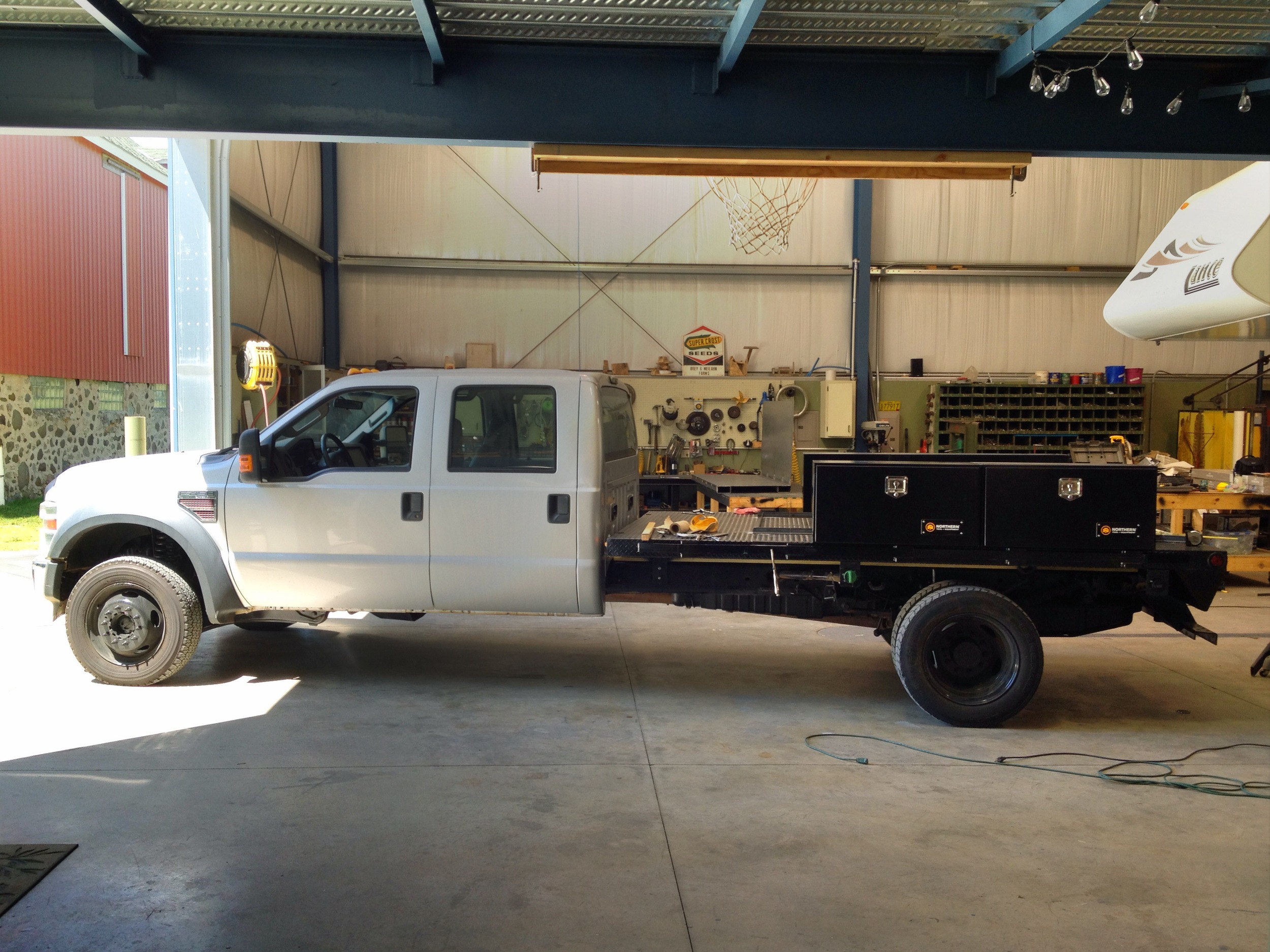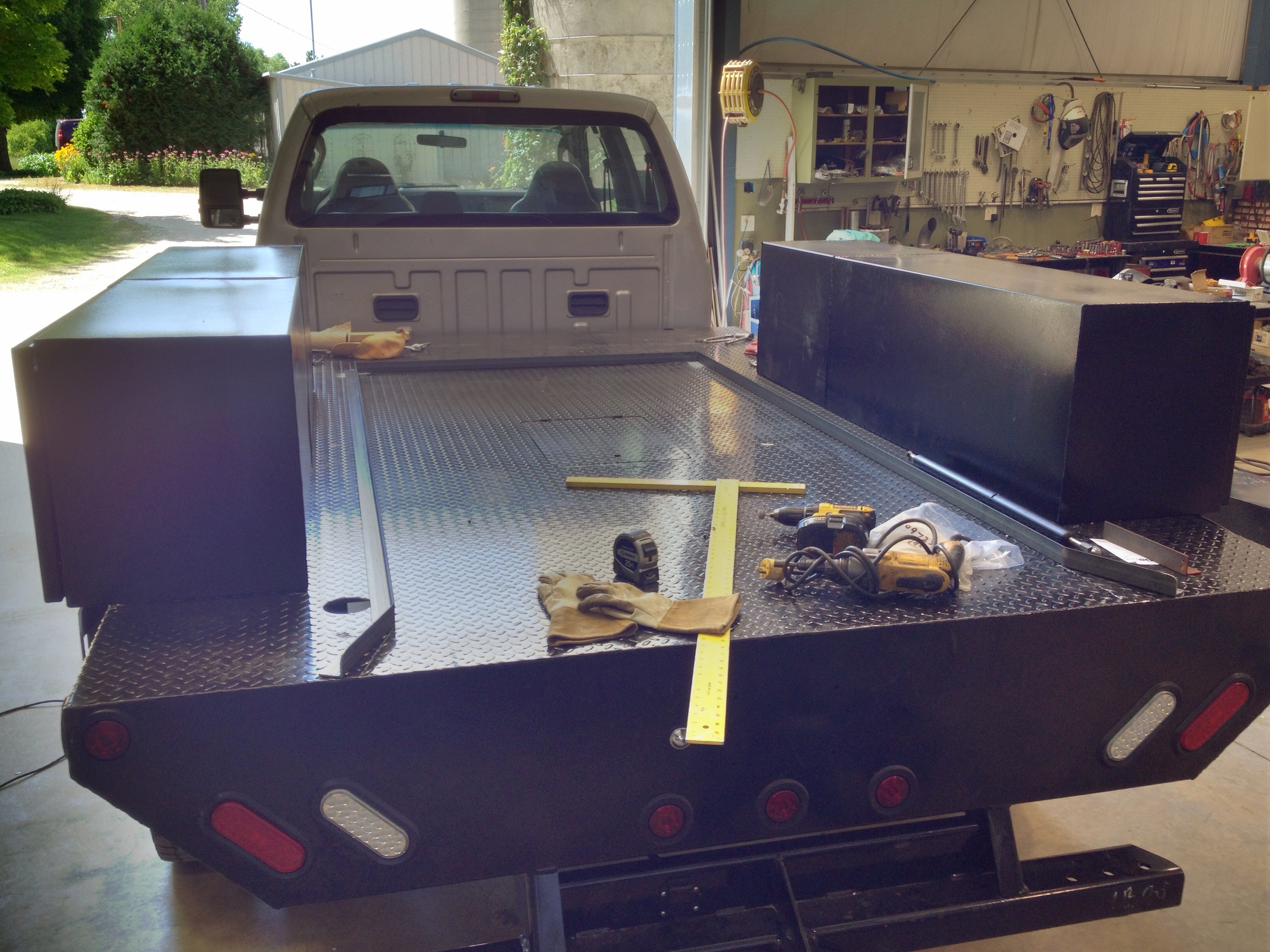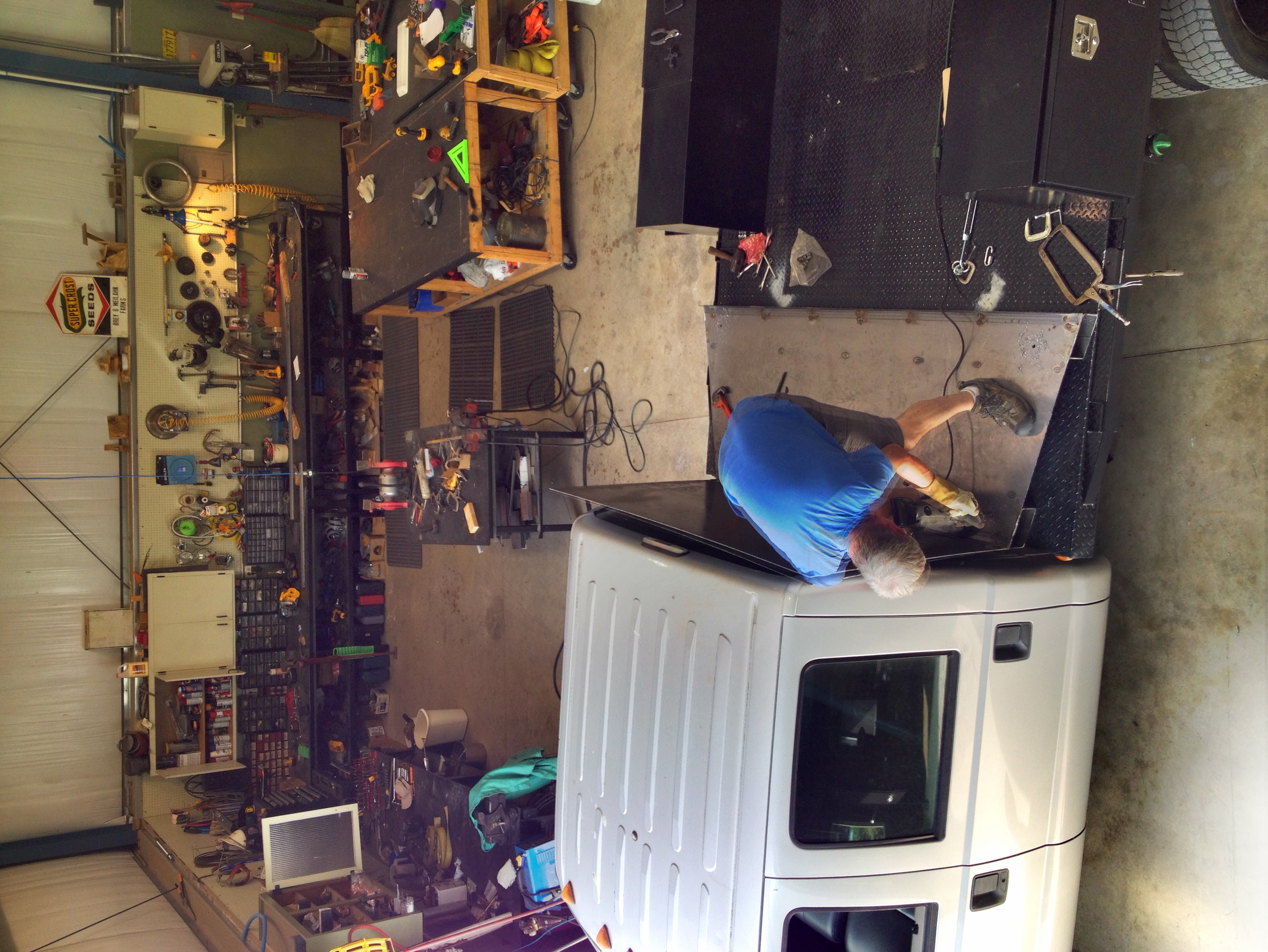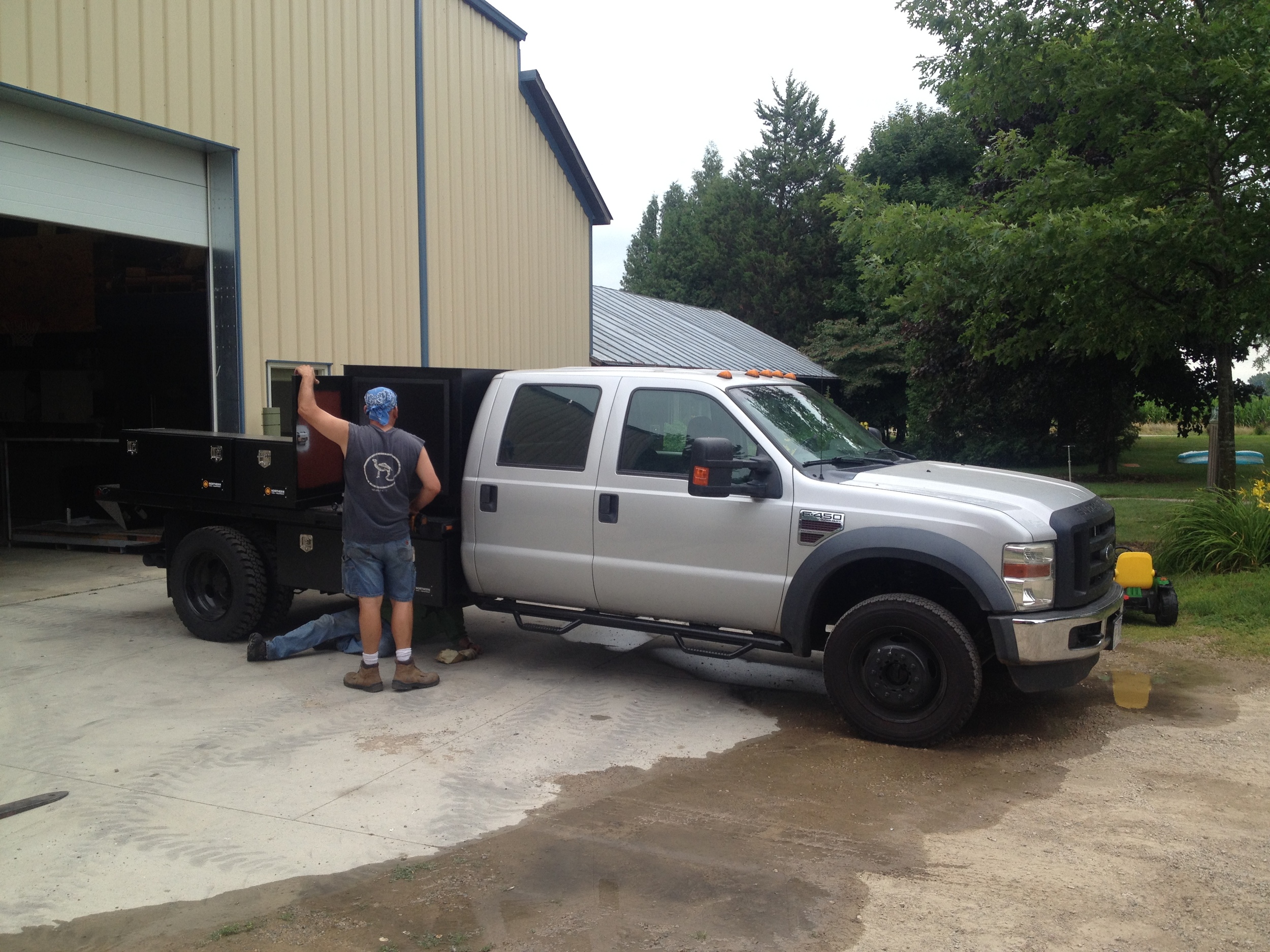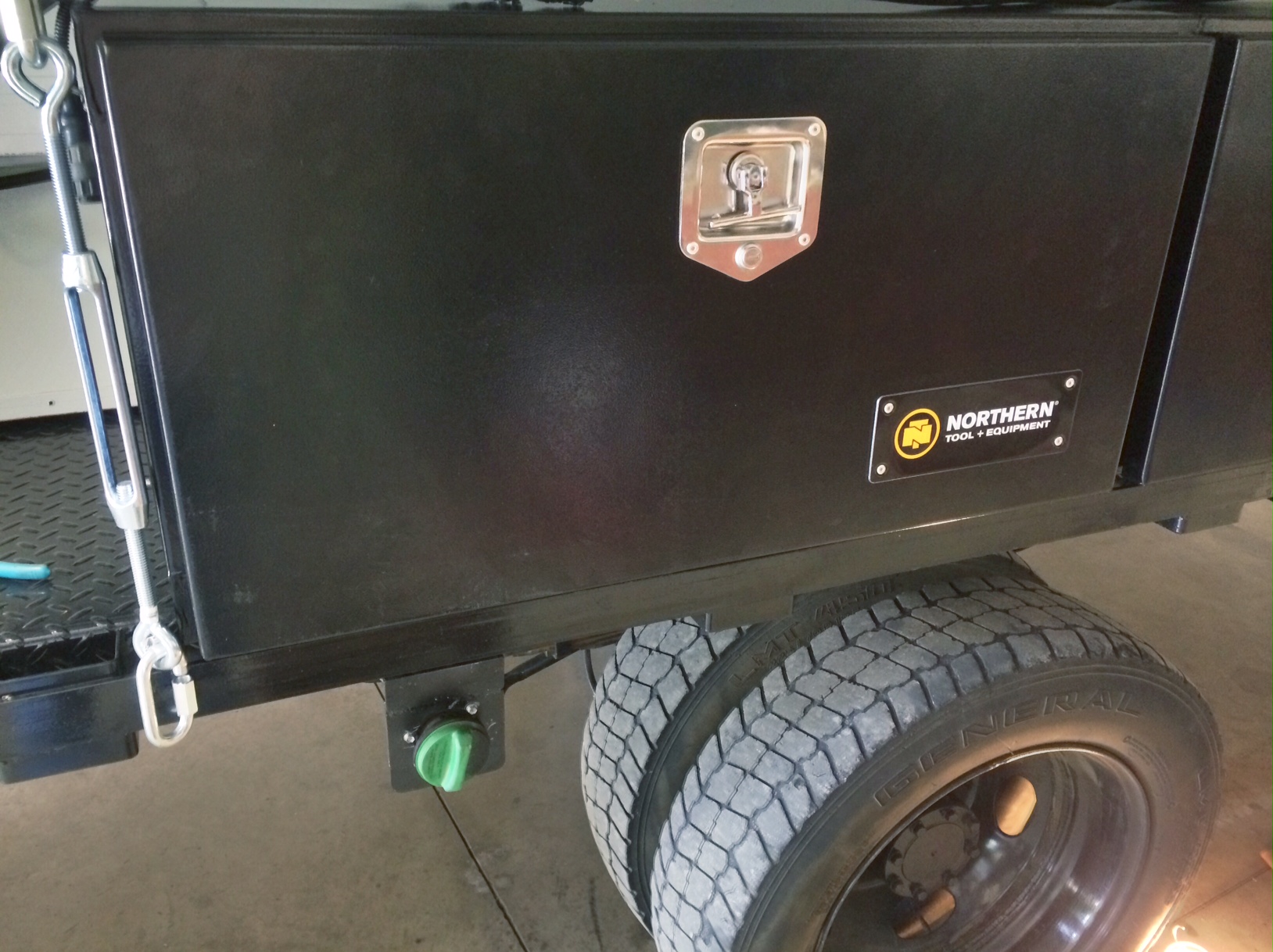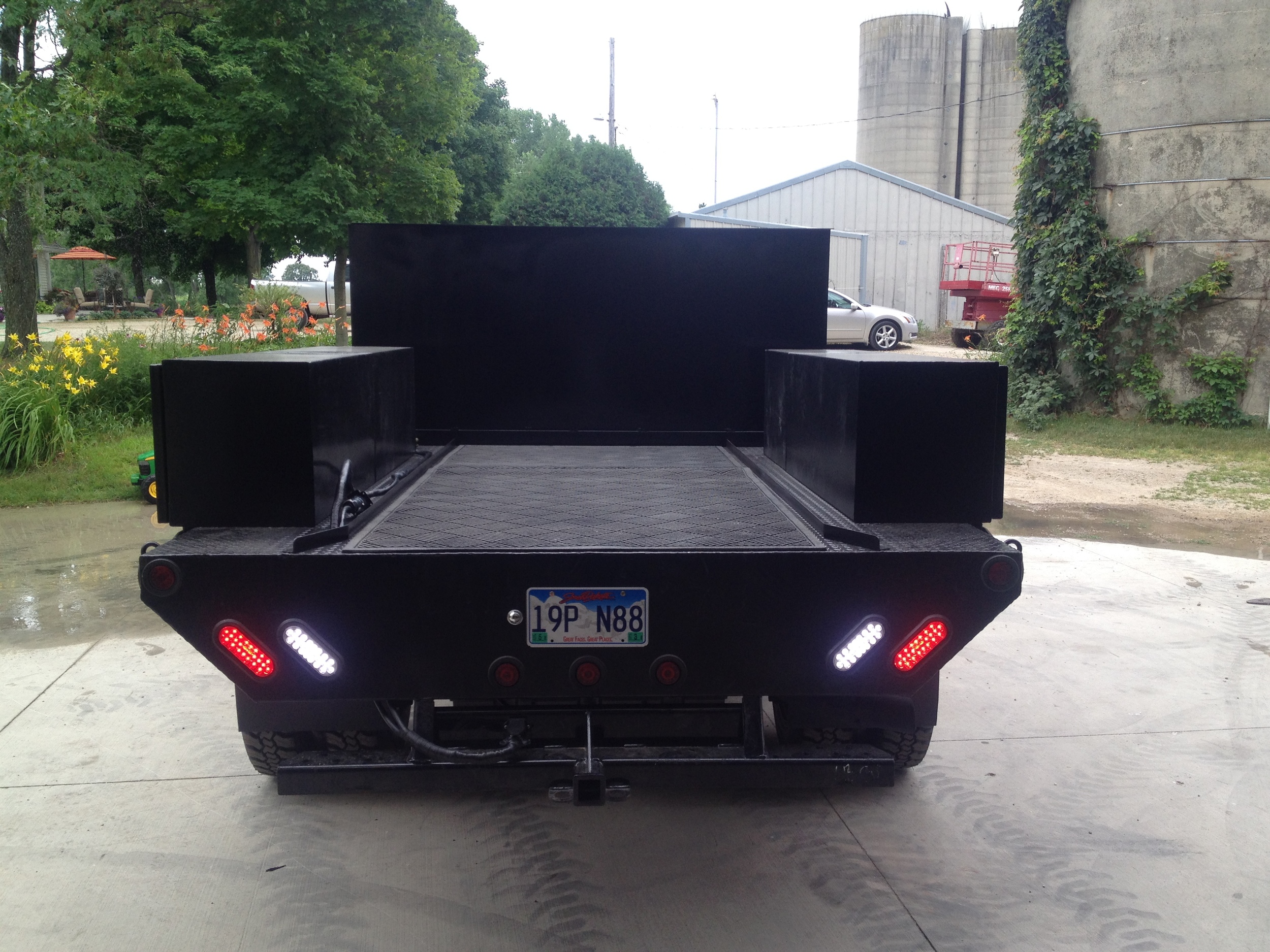 Step 4: Install the contractor boxes and fabricate and install the front box. We also mounted the fuel lines, installed the tie down hardware and added guides and a rubber mat to the floor of the flatbed. The guides help keep the rubber mat and camper center if/when needing to loosen the tie downs during aggressive off road use. The guides also assist when loading the camper, serving as visual points of reference to assure straight and even loading.
Step 5: Drive and use the beast.